Kitty goes from scaredy-cat to snuggle bug
Oreo was afraid of everything when she first arrived at Best Friends in New York, but with patience and extra TLC she was ready to take on the world.
By Rachel Daniel
When three-year-old Oreo first came to Best Friends in New York from the Animal Care Centers of NYC, she was shy, stoic and scared of almost everything. She spent most of her first week hiding and rarely coming out at all, and when she did come out, it took a lot of coaxing from her caregivers. She also needed a lot of encouragement to eat or take her medications, and she was often so stressed that whatever food she did eat came right back up.
Not only was Oreo's shyness affecting her health, but it would be difficult for potential adopters to connect with her if they couldn't even see her, much less pet her.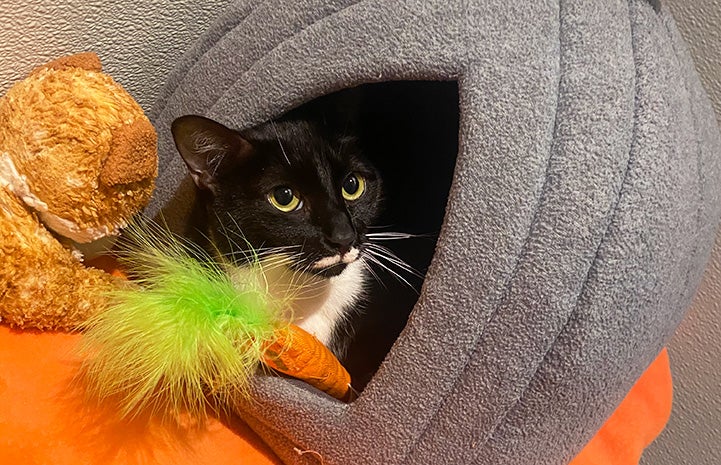 New digs and a fresh start
Observing her shy behavior, caregivers quickly learned that what Oreo really needed was some extra TLC and a little bit of privacy. They decided to clear out a suite usually reserved for dogs and turn it into a private, quiet cat haven just for her.
Once she was able to decompress in her own space, she began to trust people and feel better. "She was able to blossom in that environment," said Cody Bailey, a Best Friends caregiver.
With Oreo moved into her private suite fitted with a few amenities like her night light and hidey bed, her care regimen was tailored to alleviate stress and help her feel safe. People spent a lot of time sitting quietly with her and allowing her to come out and socialize on her terms, which helped her let down her guard.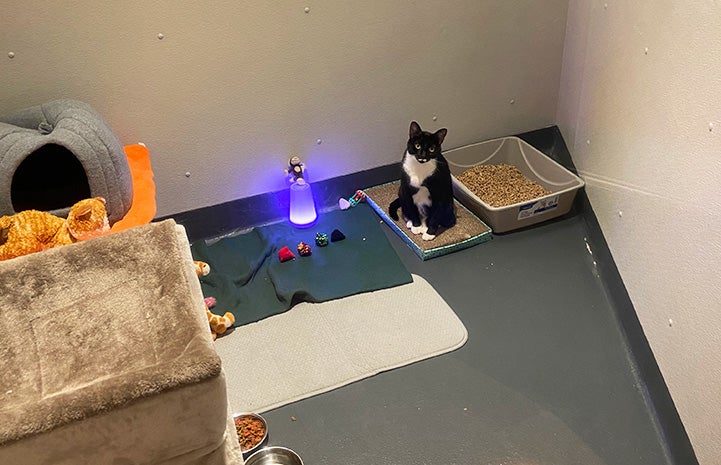 [The 20-pound cat with 1,000 nicknames]
After first getting comfortable with light petting and ear scratches, Oreo was soon ready and eager for attention and wanted to sit in the lap of anyone who ventured into her room. "She'd sit in my lap with her head on my chest and her arms on each side of my neck," says Cody. "She would always fall asleep in that position, although she would get way into it and make biscuits on my neck."
As Oreo became much less stressed and more accustomed to people and her new living arrangement, she was finally able to eat her meals and keep the food down.
The sweet cat nearly had a setback when she came down with an ear infection, but the team created a specialized treatment plan to minimize her stress. But now that she felt safe in her surroundings and trusted her caregivers, not even an ear infection could slow her down.
[5 stories to celebrate National Community Cat day]
When veterinarian Michelle Lugones went to check on Oreo, she immediately noticed a difference. After just a few minutes sitting in Oreo's room, the cat came out of her hidey bed and started purring and asking for attention (including petting). It was a huge improvement from her arrival five days earlier. "When I saw that, I was so happy she was starting to come out of her shell and relax," Dr. Michelle says.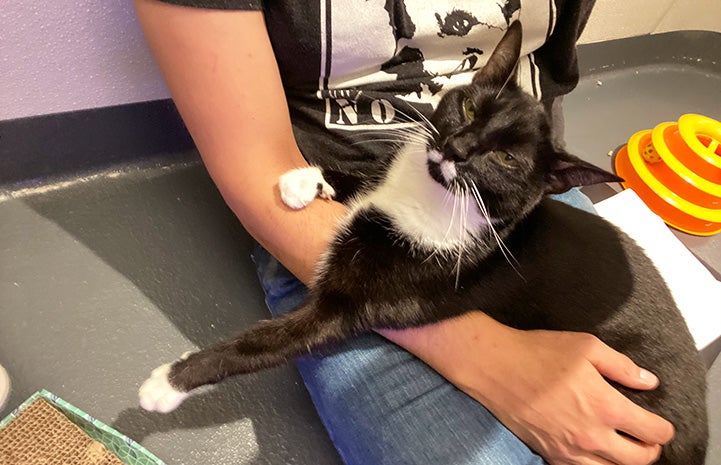 A new family for Oreo to cuddle
After a few weeks at Best Friends, Oreo was like a brand-new cat. All she needed was a little patience and a bit of privacy for her sweet, snuggly personality to come out. Formerly a bit of a loner, she's become "definitely a people person," according to her caregivers. And while she likes her toys and treats, all she really needs is a warm lap to curl up in.
Happily, Oreo soon left the Best Friends center with a family of her own that's dedicated to giving her a happy life full of people's laps reserved especially for her.
Oreo's story is a great example of how one size doesn't fit all when it comes to caring for animals. With just a little time and TLC, she was able to thrive and go home with a family that's a perfect fit for her.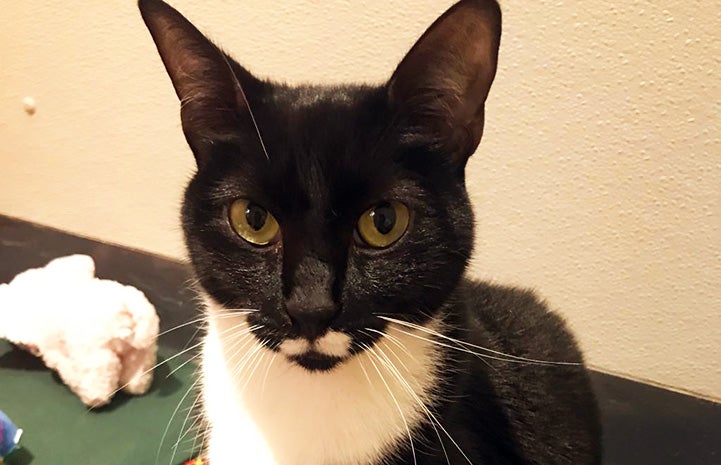 Homeless pets near you need a second chance
Whether you're looking for a couch potato-type or an adventure buddy, you'll find the right pet for you at a shelter or rescue group nearby.
Read more
8 warm and fuzzy pet adoption updates
Big tabby kitty with FIV lands just-right home