Long-awaited Sanctuary visit is the mother-daughter trip of a lifetime
Image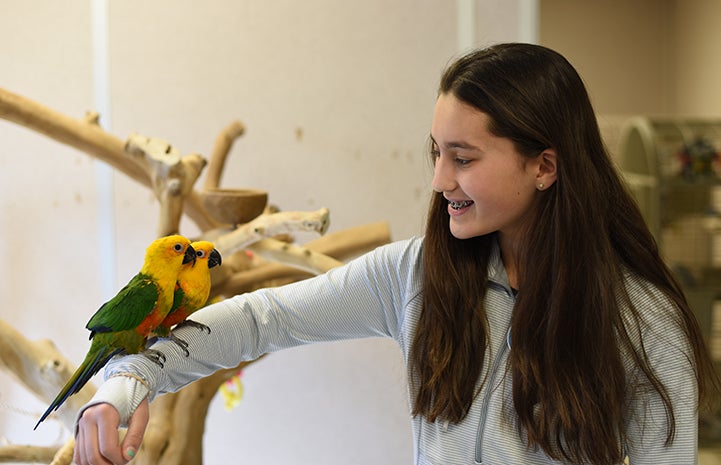 Mother and daughter enjoy a vacation to the Sanctuary in Southern Utah to spend time volunteering with animals and strengthening their bond.
By Christelle L. Del Prete
When East Coast resident Georgia Rivero visited southern Utah with her family two years ago, she couldn't contain her excitement. Georgia's fifth grade class had just completed a yearlong project in which each student had to choose an organization to research. After her teacher told her about Best Friends, Georgia became intrigued and decided that it would be the focus of her project.
A few months later, after all she'd learned about Best Friends, imagine her joy and surprise when her family drove past the Sanctuary in Kanab, Utah, during a getaway to the Grand Canyon.
Best mother-daughter trip two years in the making
Georgia wanted more than anything to get out of the car and explore. But the family was on a tight schedule, it was late and the Best Friends Welcome Center had already closed for the day. Also, 10-year-old Georgia wasn't old enough to volunteer in all of the animal areas that she wanted to see. The young girl was understandably disappointed, but she didn't let that disappointment get her down. Instead, she pledged to return to visit the Sanctuary as soon as she possibly could.
That vacation, two years in the making, turned out to be one of the best mother-daughter trips she had ever taken with her mother Nancy. Once they arrived at Best Friends, they knew their long wait had been well worth it. However, as soon as they set foot on the Sanctuary grounds, there was no more waiting around. The mother-daughter duo only had a few days, and they were determined to make the most out of every moment.
Family volunteer trips: Retreats and whirlwinds
Like many family volunteer trips, it was the perfect mixture of a relaxing retreat and a busy whirlwind. Together, Georgia and her mom volunteered in Cat World, the Bunny House, Dogtown, Parrot Garden, and Horse Haven. They did everything — from nuzzling bunnies and cleaning rooms at the Bunny House, to watching a Parelli Natural Horsemanship demonstration at Horse Haven, to helping socialize puppies in a puppy preschool class.
In the calmer, quieter moments, they made a few special connections to Sanctuary pets. Georgia lovingly pushed Justin, a puppy born without feet, around in his stroller and took a dog named Abe on his very first sleepover. Abe was Georgia and Nancy's sleepover guest for two nights while they stayed at the Best Friends cottages. As he made himself at home and lounged on the bed, he became one of the highlights of their visit.
A mother-daughter trip of a lifetime
Now that they are back home, Nancy and Georgia often reflect on what was for them a mother-daughter trip of a lifetime. The experience not only gave them the perfect opportunity to volunteer as a family, but it also affected the way that they see and understand animals and the issues they face.
"It is unusual for a day to go by that we do not discuss or reference our stay at Best Friends," Nancy says. "Before our visit we were certainly aware that animals end up in shelters, but came away with a much deeper understanding of the issues that lead them there, in need of saving."
Nancy also noted that what her daughter, an avid rider, learned in Horse Haven has "clearly affected the way she thinks about and interacts with horses." And, their visit to Marshall's Piggy Paradise "definitely increased her appreciation of these smart and sensitive animals." The pot-bellied pigs who live at the barn where Georgia rides horses are now receiving lots of healthy snacks and extra affection from her.
From school project to passion
Of course, Georgia and Nancy didn't forget about the special Sanctuary animals they had bonded with. They continued to follow a few of them on the Best Friends website and were thrilled to learn that both Justin and Abe have been adopted.
Now, years after learning about Best Friends and months after that first dream visit to the Sanctuary, Georgia is more excited about it than ever. While years may have passed in between their visits, there's no doubt that Georgia and Nancy will return to the Sanctuary, because what started as a school project has truly become a passion.
Photos by Molly Wald