Sweet pit bull terrier mix brings comfort, calm to young adopter
As Gracie Lou fills her new Lopez family home with love and laughter, she's also formed a special connection with their son Michael, who has autism.
By Perry Athanason
When Gracie Lou, a two-year-old pit bull terrier mix, was at Harris County Pets, she had trouble landing a home. It's hard to know why, though, because Gracie Lou loves everyone and everything. What she needed was a reset and a change of scenery to get her headed in the right direction. So, she was brought to Best Friends in Houston where she scored a fantastic foster home with a family that had never previously fostered dogs from Best Friends.
"They had young kids, so it had to be a perfect match for their home," says Megan Lee, a foster coordinator for Best Friends in Houston. "Gracie Lou's calm demeanor won this family over right away." And, Megan adds, Gracie Lou was great with the kids, including a six-month-old baby who she adored.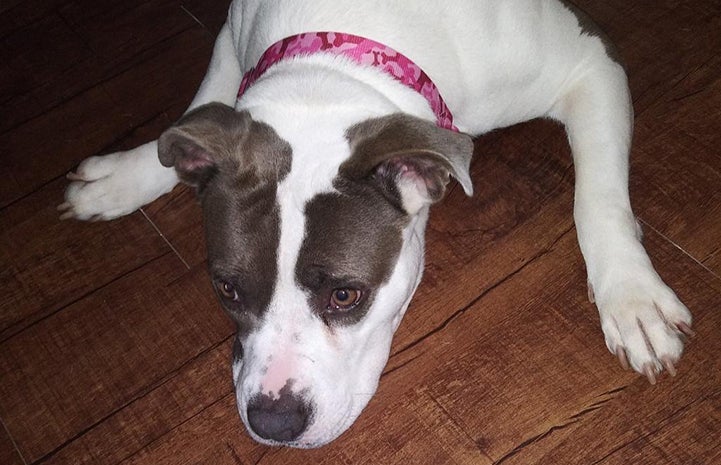 Pittie helps heal a young man heal
Things were looking good for the sweet Gracie Lou. And they were about to get even better. After a short time in her foster home, she got her big break: A television station was hosting a Halloween event featuring adoptable pets, and the team at Best Friends wasted no time dressing Gracie Lou up in a cute rainbow costume for her TV debut.
Lopez family members happened to be watching TV that morning during the typical hustle and bustle of making breakfast and starting their day. When the camera landed on Grace Lou, Michael Lopez, the family's 20-year-old son suddenly shouted, "That's my dog!" It was love at first sight and a sure sign that Michael was ready to open his heart to a dog again.
[Sweet lullabies help a puppy heal and find a home]
You see, Michael had been saddened by the loss of the family's two dogs, who both passed away within months of each other. Being a young man with autism, he leaned on both as a source of comfort and calm. They also were positive influences within the family dynamic in ways only he and the family could know and understand. When he lost that lifeline, Michael's demeanor changed, and it wasn't until the moment he spotted Gracie Lou on TV that his mood and personality lit up like a million stars on a dark, cloudless night.
Celestino, Michael's father, arranged to meet Gracie Lou that same day, and when Michael and Gracie Lou finally met, it was clearly a match. Gracie Lou was playful, happy and attentive to Michael, and he was over the moon. The void he experienced since the passing of his beloved dogs was gone. Celestino immediately saw the change in Michael and watched as happiness returned to his son. His personality returned, and Gracie Lou's presence seemed to blanket him with a sense of calm.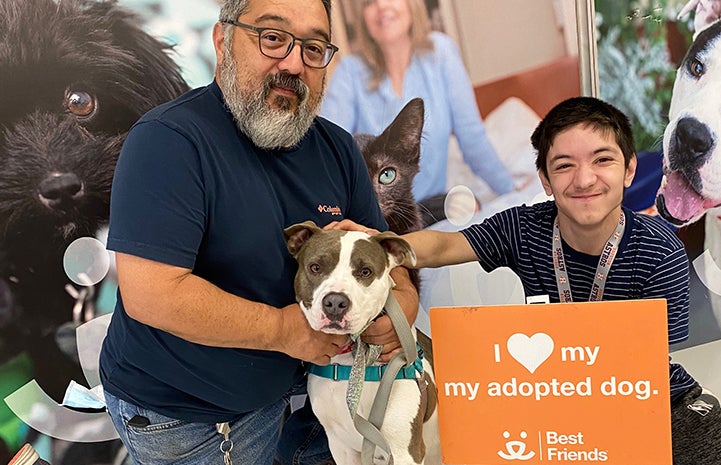 Once abandoned dog fills home with joy, happiness
Today, Michael and Gracie Lou are inseparable. Michael loves to talk to her and tell her all about his day, and Celestino says she appears to listen intensely and soak up every word. Like Michael, the family speaks to Gracie Lou as if she was a person, and she seems to understand and follow directions.
[Bella the survivor dog arrives at Best Friends]
Gracie is attentive to Michael and keeps a watchful eye over him, catering to any of his needs with pure joy, happiness and love. But Gracie Lou has also formed a deep connection with Celestino, his wife, daughter and grandchildren (who call her "Gracie Moo" because they think she looks like a small cow). And she is as sweet as can be with them.
Gracie Lou has the perfect demeanor for the Lopez family. She's quiet, observant and watches out for all the family members. In fact, the only noise she makes is an occasional one-bark alert when someone is at the front door, plus a swooshing sound as she jiggles her rear and wags her tail out of happiness, something she does constantly when she's playing with her family and meeting new people. And she most definitely swooshes her butt back and forth while getting her favorite treats of cheese and peanut butter.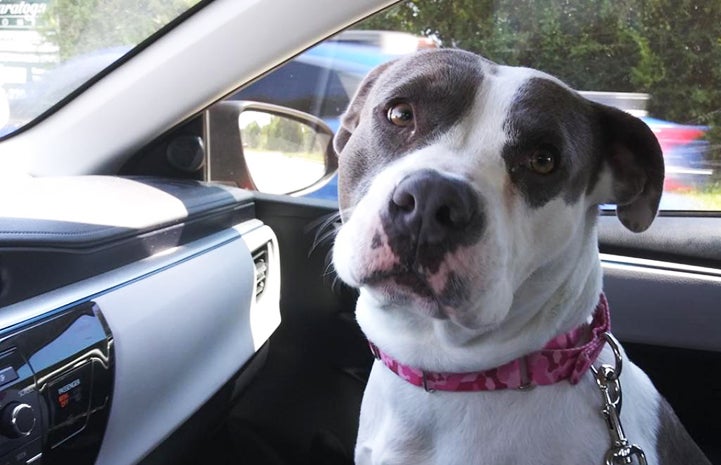 A gift to her new family and vice versa
Gracie Lou brought an extra level of joy to the Lopez family over the holidays, and she received gifts from several family members. Her stocking was full, and she took every opportunity to enjoy each treat and interaction with the entire family.
Thinking back on how his family came to meet Gracie Lou, Celestino feels she is a gift who helps his son face the demands of each day and helps bring the family together in harmony. Today Gracie Lou Lopez is a full-fledged member of the family.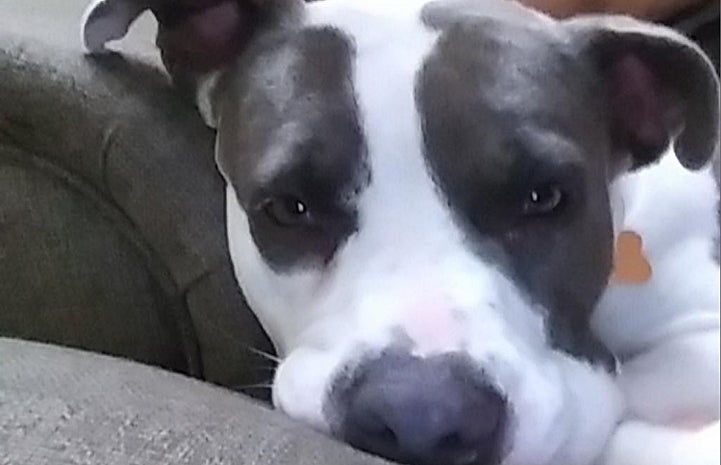 Find your next four-legged family member
Visit your local shelter to meet dogs who are ready for a home. Could it be yours?
Read more
Bunny helps a family heal from loss
Great Dane-Mastiff mix is large, in charge, and now basking in love