Wild mustang mares and foals make Best Friends their winter rest stop
The Sanctuary is a safe and comfortable spot where mares and foals can rest on their way to new lives.
By Sarah Thornton
Family road trips can be a lot of fun, but they can also be pretty long — especially for any little ones in tow. Such was the case for four mustang mares and their young foals on their way from Colorado to California. The trip was just a little bit too much for the newborns and their spindly legs to handle in one go. So instead, they made a season-long stop at Best Friends Animal Sanctuary to rest, relax and do some growing up before moving on.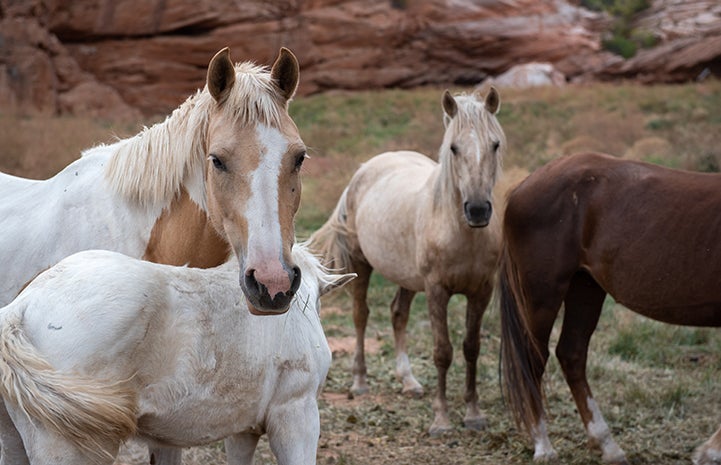 First leg of the journey
Originally from a herd in Wyoming, Bella (then pregnant), Dahlia, Sunflower and Angel were part of a group of 13 mustangs rounded up by the Bureau of Land Management as part of a plan to move them to a mustang sanctuary in California.
During the group's stopover in Colorado, the mares gave birth to their own small herd of adorable foals — four baby horses who, after reaching their West Coast destination and being weaned, would be up for adoption. Their moms, who have already lived people-free lives (and prefer it to stay that way), will then rejoin their wild friends and family.
Before they could complete the journey, though, the foals would need time to get bigger and stronger, and where they were just wasn't quite the right place for growing horses. "They wanted to get the foals out of the holding corrals into a little bit friendlier, less stressful environment," says Jen Reid, manager of Best Friends Horse Haven. "But it's an awful long trip from Colorado to California for such young, young babies."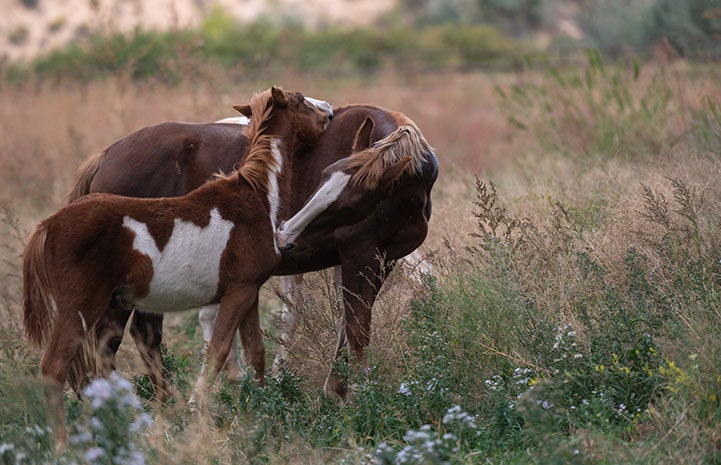 [How retraining helped a formerly wild mustang and an introverted horse find their niche in life]
So, the eight youngsters were brought to the Sanctuary and set up in their own pasture with plenty of room for them to run around, play and really stretch their legs. There's fresh green foliage to roll in (and snack on), and even a private watering hole to get their hooves wet. It's a rather idyllic spot to grow up in, and it's a big step up from some of the rest stops us humans are used to finding along the highway.
Their pasture was loaded up with hay, and they were given some people-free time to settle in. It didn't take long at all for them to make themselves at home and, come March, they'll be headed back on the road.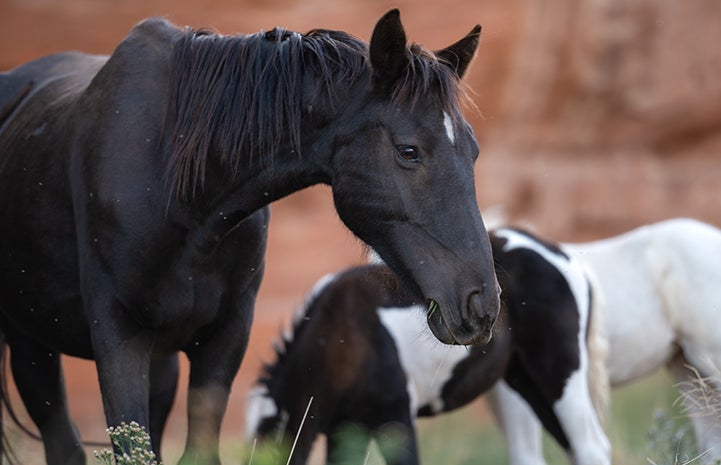 A slight change of plans for four foals
Once it was clear the small herd was comfortable in the new winter home-between-homes, caregivers slowly started spending more time around the little ones. And they've all been handling it very well, although the mares don't want anyone touching them, which is fine since they'll be remaining as wild as they've ever been after this trip.
"They're incredibly chill," says Jen. "I've seen some wild horses who would do anything (to get away). If you come within 100 feet of them, they're gone. And these mares are like, 'Yeah, don't touch me, but you're fine, whatever. Did you bring me more food?'"
On the other hand, the foals are starting to learn just what a human's hands can do. And a couple of them have decided that they really enjoy rump scratches.
"If they come and choose to interact with us," says Jen, "we'll interact with them. But we're not really actively pushing that with them yet. We're just giving them time and letting them grow up a bit."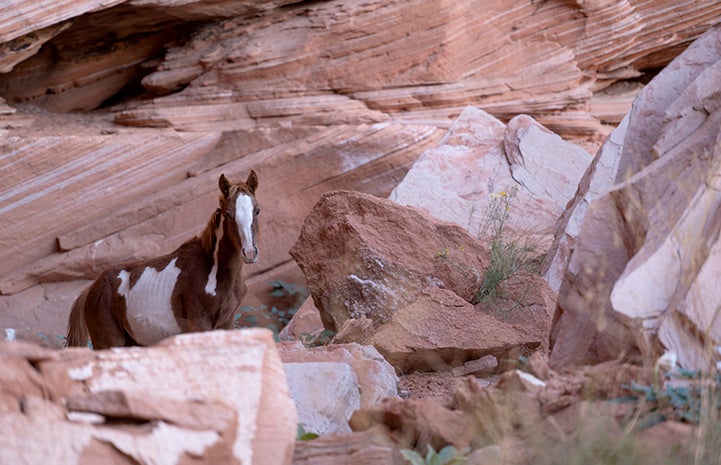 When the time comes, though, she's confident that the friendly foals will be more than ready to start their pre-adoption training. And because they're doing so well and it was already the plan to find them homes, the original arrangement has changed a little bit. Instead of continuing on to California, the foals will stay at the Sanctuary to be adopted.
In fact, two already have a home lined up in Colorado and a third may have a family waiting all the way back in Wyoming. As for the last, Jen is sure it won't take any time at all for an adopter to fall in love.
The momma mares are still scheduled this spring to complete their trip to the mustang sanctuary, where they can run wild and free from sunrise to sunset. It's shaping up to be a happy ending for all eight members of the little herd that stopped for a rest in the cozy canyon of the Sanctuary.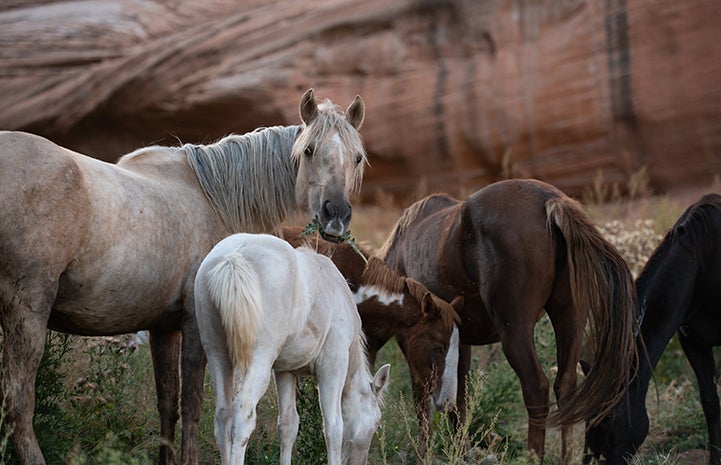 Make a difference for horses
By joining Best Friends, you can make a difference in the lives of even more horses.
Read more:
7 questions and answers about horses at Best Friends