Miami-Dade breed ban victory: And the wall came tumbling down!
Some things never seem to change — until they do. That's the way it is for every seemingly set-in-stone structure until it falls.
I was in Berlin, Germany, on a student trip when the Berlin Wall came down — I have a piece of the wall from the infamous Checkpoint Charlie as a souvenir — and the exultant triumph of Berliners over the gray oppression that the wall represented is something I will never forget. It remains a reminder for me that nothing, however rigid and monumental, cannot be dissolved in an instant.
That, in a nutshell, is the story of the no-kill movement. A popular saying comes to mind: "First they ignore you, then they laugh at you, then they fight you, then you win."
One of those impenetrable monoliths in the drive to achieving no-kill nationwide by 2025 has been the Miami-Dade County pit bull ban. With a population of over 2.7 million people, it is the most populous county in Florida, the third most populous state in the country. The ban was passed in 1989, and like all such breed-specific legislation (BSL), it was pushed through by local officials with the misguided notion that by scapegoating a type of dog based on appearance and labeling them as dangerous, they would be advancing public safety — while ignoring science, the CDC, and, at the time, a small chorus of no-kill advocates.
It became the law. Dogs fitting the description outlined in the ordinance had to either leave the county, lay low and wear bunny ears, or be seized by animal control and killed. Stray or surrendered dogs fitting the wanted description could not be adopted and were killed. Animals transiting the county with their owners were at risk, and pit bulls of loving families who moved to Miami-Dade could be seized and summarily executed. Some animal control officers used their arbitrary authority to err on the side of leniency, but authority was given to clear Miami-Dade of stocky, blocky-headed dogs regardless of how sweet their disposition or how loved they might be by a family.
In response to the Miami-Dade action, a statewide campaign to preempt other such local ordinances was quickly mounted, and in 1990, the state passed legislation prohibiting local governments from passing new restrictive laws. However, Miami-Dade was exempt because its legislation was already in place.
While the law was targeted for repeal over the years at the local level by the Miami Coalition Against Breed Specific Legislation (MCABSL), it withstood all attempts and managed to hang around and just kept claiming lives and breaking up families.
Best Friends jumped feet first into the national breed ban fight in 2007 when we took on 22 of the most challenging dogs from Michael Vick's dogfighting ring specifically to demonstrate that dogs are individuals, and regardless of breed or prior trauma, they should be treated as individuals and not be judged as a group. The Vicktory Dogs, as they came to be known, came through with flying colors, most going on to enjoy life as a family pet. Some became service dogs, agility champions, and breed ambassadors to local, state, and national legislative bodies. Their story is told in the award-winning documentary The Champions, and our work with them as individuals became the subject of peer-reviewed studies. By 2009, fighting and dismantling BSL was one of our strategic initiatives in the march to no-kill.
In 2011 Mark Buehrle, a baseball pitcher with the Chicago White Sox, was traded to the Miami Marlins. At the time Mark was only the third pitcher in MLB history, along with Cy Young and Sandy Koufax, to have a no-hitter, a perfect game, and a World Series title with the same team.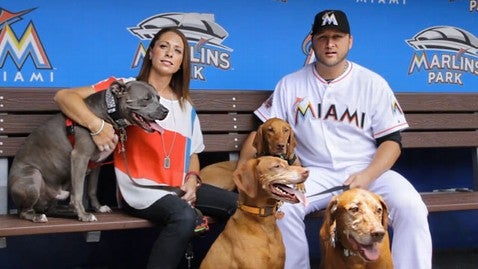 He and his wife, Jamie, arrived in Miami-Dade with two kids and four dogs, one of whom fell under the local breed ban. The Buehrles could not live in Miami-Dade, and it did not go unnoticed that they would have to take up residence in neighboring Broward County to keep the family intact while he played in Miami. In addition to garnering national media attention, Jamie, Mark, their kids, and their dogs were featured in The Champions, and their high profile and personal experience lent weight to a renewed effort to repeal the ban. In 2012 Best Friends partnered with MCABSL organizations to work for a repeal, but again the seemingly impervious wall remained intact and the Miami-Dade breed ban continued to cost families their pets and animals their lives.
That all changed in 2022 when the Best Friends legislative advocacy team identified a new legal strategy that popped out of survey-based data related to reasons for pet owners surrendering their animals to shelters. It turned out that the No. 1 reason given was housing barriers based primarily on weight and breed. That wide net caught all sorts of dogs in the exclusion zone, not just pit bull types. Mutts and identifiable breeds of all types — labs, shepherds, collies, boxers, goldens — were on the outs based on weight. Housing barriers were not only a pain point for pet owners, but they also pointed to a chink in the BSL wall.
Enter Kelsey Gilmore-Futeral, South Carolina-based legislative attorney on the Best Friends advocacy team whose beat includes Florida. Kelsey identified the access point as being taxpayer-funded public housing. Congress had previously identified public housing authorities as quasi-governmental agencies, and as such they were subject to state and federal regulations prohibiting breed bans such as Florida's 1990 preemption bill. 

Kelsey regrouped the Miami Coalition Against BSL and expanded it to include Best Friends Network Partners around the state. 

In 2022 our measure passed the Senate but didn't get to the House floor before the session expired. 

But this year, Kelsey identified Senator Alexis Calatayud and Representative Demi Busatta-Cabrera, both representing portions of Miami-Dade County, as the perfect sponsors of our proposed bill and with an understanding of the current political climate worked the halls of the state legislature. The inside joke on such lobbying is that any lobbyist worth their salt knows where every restroom in the state capitol building is because the halls outside those few but essential gathering places are where members of the legislature can most easily be buttonholed for a persuasive conversation! 

Our bill sailed through both the House and the Senate and was signed into law by Gov. Ron DeSantis on June 16.
Best Friends Animal Society Thanks Governor DeSantis for Passage of SB 942 to Prevent Dog Breed and Weight Restrictions in Local Governments and Public Housing Authorities
As critical as this victory is, it really needs to be seen in the light of all that has gone before. Kelsey's insight and hard work provided the lynchpin for the various threads of public sentiment against BSL that had lacked coordination and the essential lever to topple the monolith. And then, in a day, like Checkpoint Charlie, the wall came down.
Amid the celebration, however, it's important to reflect on the effect of 34 years of BSL in a county as large as Miami-Dade.
That's 34 years of:
Non-adoption and consequent killing of pit bull-type dogs entering shelters
The seizure and killing of pets
The breakup or exclusion of families with pit bull-type dogs
The automatic death sentence for dogs regardless of disposition
Sadly, this kind of policy is the logical extension of animal control policy going back 150 years that includes killing as an acceptable if undesirable outcome.
It is also emblematic of why achieving no-kill nationwide by 2025 is so important. The killing of homeless pets in shelters must stop. That is key to transforming a self-perpetuating system that has claimed more lives than anyone can count.
Some things never seem to change — until they do. Suddenly, the impossible is possible.
2025, here we come! Together, we will Save Them All.
-Julie
---