Your gift is lifesaving
Your gift goes straight to work here in Northwest Arkansas, providing care and companionship to homeless dogs and cats.
Your gift helps ensure that they get the support they need to find loving homes, and will help provide them a place to stay in our reimagined pet resource center in Bentonville.
You'll also be helping to fund national lifesaving endeavors like low-cost spay/neuter services, community cat programs and resources to help keep pets in their homes with the families who love them.
Give to save lives
Your contribution supports lifesaving work locally and helps shelters nationwide achieve no-kill.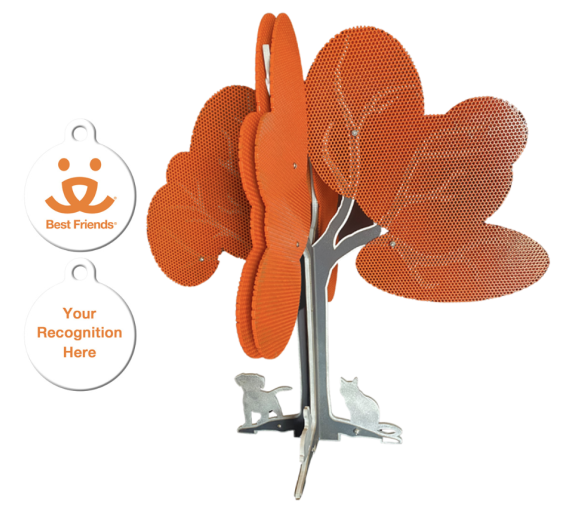 Our community giving tree
Created by a local artist, the 6-foot-tall tree features a shimmering canopy of inscribed pet tags as its leaves — each one a symbol of generosity, compassion and kindness to the animals.
The pet food and supply pantry at the pet resource center
We're always accepting donations of dog and cat food for the community pantry. 
Save lives, from the workplace
There are so many ways that businesses can support the animals at Best Friends and help save lives, from starting a workplace giving program to becoming a corporate partner to participating in local and national events.
The Walmart Volunteerism Always Pays (VAP) program
The Walmart Volunteerism Always Pays (VAP) program provides grants to eligible organizations when Walmart or Sam's Club associates volunteer.
A brighter future for homeless pets, thanks to our generous donors
Contributors to our pet resource center aren't simply animal lovers or donors — they're life changers and history makers.