Bunny with a head tilt gets second chance at Best Friends
Abandoned rabbit named Clara gets daily massages and therapy until she has a new family to call her own.
By Sarah Thornton
On a day that started like any other, a young woman was out on a walk with her dog so they could stretch their legs and get some fresh air. But when she reached the dog park, she spotted something out of place. A small bundle of white-and-brown fur with long, soft ears was looking at her sideways from the grass. It was a domestic bunny, trying to hide and avoid the dog park's canine visitors.
Despite her precarious position, the bunny was as friendly as could be, and she allowed herself to be picked up by this new person and brought to safety. It quickly became clear that the tilt of her head wasn't because she was curious. It was the way she held her head all the time. A veterinarian treated her for ear mites, hoping that was the cause of the tilt, but her head remained cocked at a sharp angle.
Her condition required further examination and medical care from a veterinarian familiar with bunnies. And without a microchip and no family coming in to claim her, little Clara needed somewhere to go where she would be safe while undergoing treatment ― a place where she could get both a fresh start and a second chance. So, the bunny named after the woman who found her was brought to Best Friends Animal Sanctuary.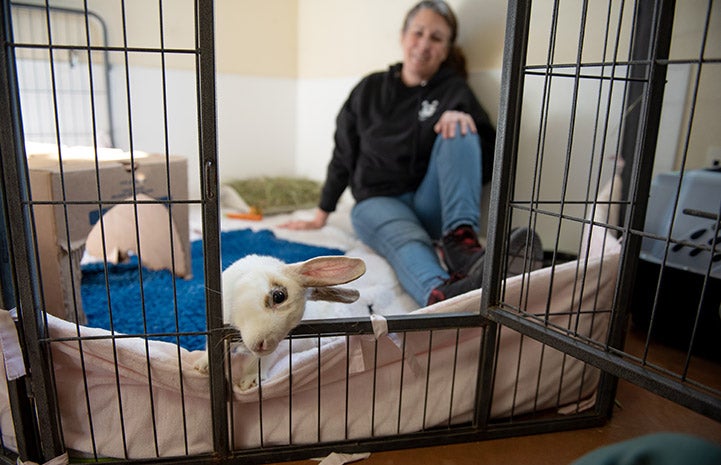 Diagnosing a bunny's head tilt
Along with the tilt of her head, Clara was often disoriented. "She rolls a lot, she flips a lot," says Amy. "She was spilling her water all the time (and ) she was constantly soaked." Clara was dealing with a kind of vertigo that is especially exacerbated by being picked up or when there is a change of environment. In addition to the vertigo, she ran in counterclockwise circles and rolled over several times an hour.
The symptoms were consistent with neurological issues caused by E. cuniculi, a type of microscopic, parasitic fungus that is often dormant and usually doesn't cause any problems in the life of a rabbit. But in this case, Sanctuary veterinarians confirmed that the parasite had reached Clara's brain. And that had caused her immune system to go into overdrive and inflame the affected area. "It's almost like having a little benign tumor in there that causes all kinds of neurological symptoms," explains Amy.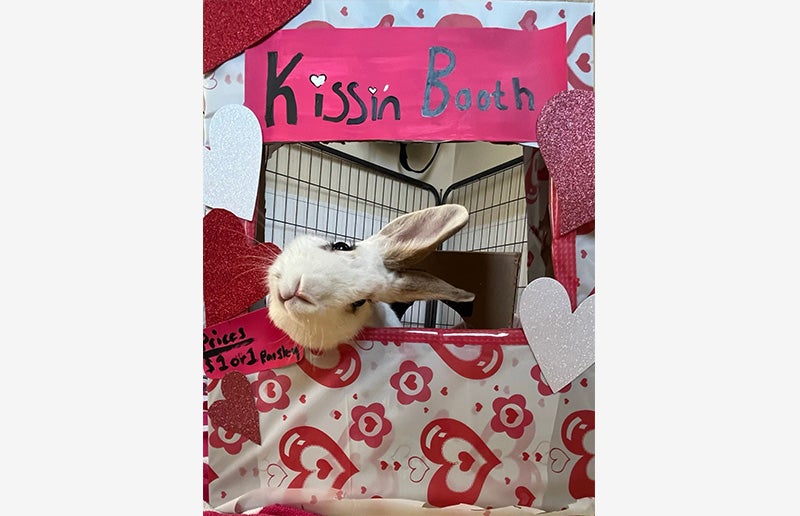 [Bunny helps a family heal from loss]
Veterinarians started Clara on a round of antifungal and antibiotic medications, as well as antinausea medicine for her vertigo, pain meds for the muscles in her neck and probiotics. And while that might sound like a lot of medicine for a little rabbit, Clara looked forward to taking her prescriptions every day because caregivers gave them to her inside a banana, her absolute favorite treat.
With medication, Clara's rolling and flipping slowed down, from multiple times an hour to just a couple of times a day, and she was finally able to start relaxing. And while she can already right her head to eat, chew and groom (though she needs a little human help with hard-to-reach places like her back), caregivers and the veterinary staff have also started several types of therapy, hoping in the near term to make her more comfortable, and in the future to perhaps get her head to an easier angle.
Daily bunny massages and therapy
Though Clara's condition wasn't caught and treated in the early window that would have made it easier to minimize her symptoms, there are still plenty of ways for her human friends to help her. The veterinary staff is looking into a new medication that may be able to help retrain her brain to adjust the head tilt. And meanwhile, she's getting regular therapy to help keep the muscles in her neck from getting too sore and stiff.
[Blind bunny and her seeing-eye brother find safety at Best Friends]
Clara gets daily treatment that utilizes a deep-penetrating cold laser to reduce inflammation, lessen pain and promote healing. She also gets daily neck massages. "She doesn't seem uncomfortable," Amy says, "but you can feel when you're massaging her (that) her tendons feel really tight. It does seem to loosen them up nicely."
For her part, Clara doesn't appear to mind the therapy ― even the weekly acupuncture treatments. She loves the attention. "She is very sweet, tolerant and super, super friendly," says Amy. "She's probably one of our friendliest bunnies."
Much like her banana-covered medicine has become a treat, therapy is just extra time with her human friends that's full of pampering. "I wish I got lasered and massaged every day," Amy says with a smile.
Clara's story may have gotten off to a scary start, but since then she has only met people wanting the best for her ― new friends making sure she gets that needed second chance. And once she's feeling even better, it will be time for a fresh start with a new family she can call her own.
Help more pets get a second chance
By joining Best Friends, you can help even more animals get a second chance.
Read more:
Once abandoned mama dog gets new, fun, fabulous life on a farm
North Dakota shelter steps up to help others
Spicy cat's 'instruction manual' helps her get adopted
Photos by Molly Wald and Jeff Jabs