One kitty's transformation from scaredy-cat to queen of her castle
Monica's fear put her life on hold until her photo caught the attention of a good-natured cat person.
By Andrea Pitts
"Scaredy-cat" couldn't even begin to describe Monica when she first arrived at Best Friends in Los Angeles. She wouldn't allow anyone to come near her without a fearful "hiss" of disapproval. Monica was brought to Best Friends from Victor Valley Animal Protective League after the team there noted that her nervous nature ― without some level of intervention ― could limit her chances of being adopted.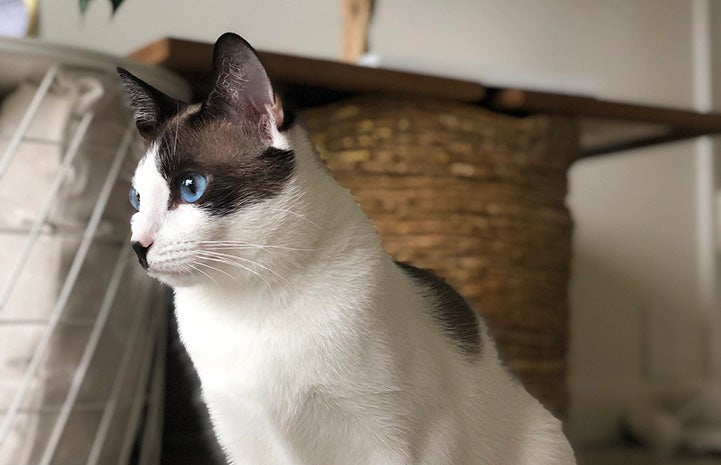 Patience brings progress, some setbacks for shy cat
Krystal Vera, a senior specialist at Best Friends in Los Angeles, has a knack for working with shy cats. Right away she noticed something special underneath Monica's frightened disposition, and she took it upon herself to help her new friend see the world in a much more positive light. "I saw her eyes and her slow blinks," says Krystal, "and I just knew this was a very shut down and shy cat."
Krystal knew from experience how consistency, predictability and positivity are three key elements to gaining an animal's trust. For two months, she set aside multiple times a day to spend with Monica ― talking to her, giving her treats and showing her love and affection. "A lot of cats just aren't given enough time to trust their surroundings." she says.
One day Monica finally allowed Krystal to touch her without hissing back, a tremendous cause for celebration. The two gradually developed a trusting relationship. As Monica continued to progress, Krystal searched for a foster family that would be willing to help Monica expand her circle of trust and learn the ins and outs of living in a home.
From midsummer to early fall, Krystal stayed in close contact with Monica's foster family, providing insight into her likes and dislikes, plus other tips on caring for a stubbornly shy cat. Despite everyone's best efforts, Monica spent most of her days and nights hiding in places where she felt safe.
After months of hard work and very little progress, Monica returned to the Best Friends Lifesaving Center to stay until she was adopted. Fortunately, she didn't have to wait long.
[Shy cat finds her perfect match after months of medical ups and downs]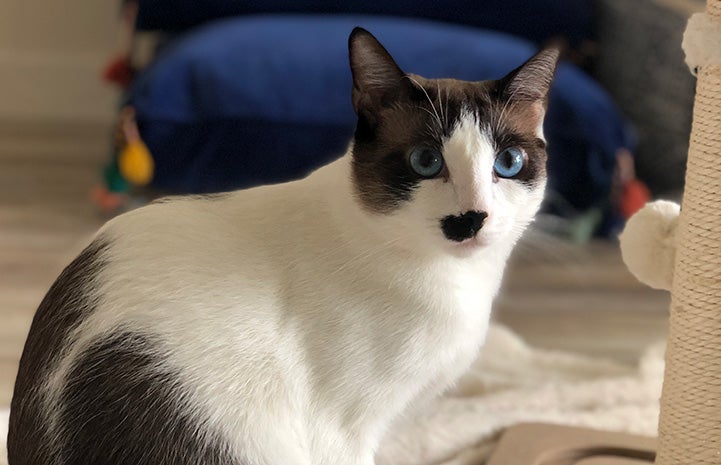 Picture says it all for one potential adopter
When Ekaterina was ready for a new feline family member, she began her search online. Knowing how animals with specific care requirements are sometimes overlooked for adoption, she filtered her search to include animals with special needs.
When she came across Monica, a two-year-old, white-and-brown cat with striking blue eyes, Ekaterina was drawn to look closer into the cat's story. "She was beautiful, but her eyes were so sad," says Ekaterina. Monica's profile indicated she was extremely shy and would need someone calm and patient to help her learn to trust. Ekaterina says learning about Monica's needs and behaviors made her want them to meet even more. "I knew when I saw her picture, she was meant to be mine. Her special needs didn't scare me away at all."
After confirming Monica's availability with Best Friends, Ekaterina searched for articles and videos about how to care for an exceptionally shy cat. She prepared her home with a comfortable cat bed, litter box and a luxurious six-story cat tree. She even scouted out several safe places for Monica to hide while she acclimated herself to her new home.
Tentative cat expands her circle of trust
When Ekaterina arrived at Best Friends, Krystal greeted her and took her to a room full of cautious cats. "Monica was hiding in the farthest corner of the room, acting even more shy than the rest," says Ekaterina, who casually sat down near Monica but avoided making eye contact. "I wanted her to feel comfortable to come to me when and how she wanted," she says. "I didn't want to scare her."
Krystal and Ekaterina sat together for almost an hour, discussing tips and tricks for Monica's care while patiently waiting for her to show some sign of interest in her new visitor. Thirty minutes soon passed and she still hadn't budged. Krystal suggested that Ekaterina slowly challenge Monica's fear by reaching over and petting her. To their surprise, Monica didn't refuse the affection for long. In fact, she slowly inched closer and asked for more.
"She looked at me so scared, but I didn't hesitate," says Ekaterina. "I came to get her. Like her picture told me before: She was mine." Ekaterina and Monica left Best Friends together that day, but their story was just beginning.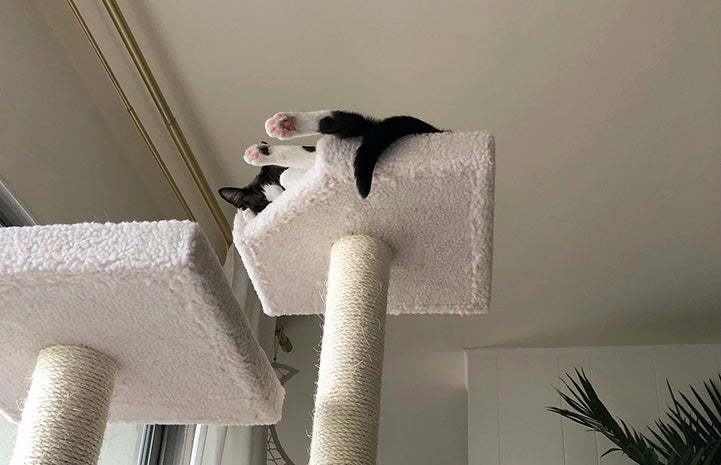 Cautious cat slowly embraces life with her new person
Ekaterina had placed most of Monica's things in her bedroom, with plans to move them into other areas of the house as she became more comfortable. She opened the top of the cat carrier to assure Monica it was safe to come out. "I left the room for a few minutes and when I came back, she had moved into her bed. I saw that as a really good sign."
Monica stayed in her bed during the day for the first two weeks. She wasn't eating much at all and was losing weight. Ekaterina started feeding her by hand until she became confident enough to go to the food bowl on her own.
One night when Ekaterina suddenly awoke to two blue eyes staring back at her from the top of her nightstand, she learned that Monica liked to explore the bedroom in the middle of the night. "It scared me at first," she says. "Then once I realized it was her, I was happy to see she had left the bed on her own."
Anytime Ekaterina would try to pet Monica during their early weeks together, she would hiss and run away. The two later came to a mutual understanding that an occasional pet on the head was acceptable. Ekaterina basked in that victory for a week or two before once again testing Monica's boundaries.
[Slow-to-trust dog finds kindred spirit in patient adopter]
Each day she tried to touch a different part of Monica's body to see how she would react. She went from her head to her ear, then her chin down to her neck. Day by day and inch by inch, Monica finally grew to appreciate Ekaterina stroking her whole body but still only on her terms.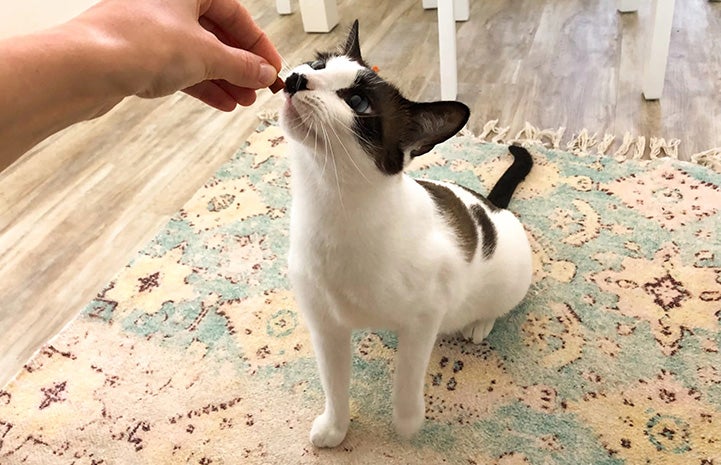 Monica makes herself at home
After about a month, Monica had explored every nook and cranny of the bedroom and it felt like time to check out other rooms in the house. And although she wouldn't stay in one place for very long before running off to hide, each of her small victories made Ekaterina's heart skip a beat.
Fast forward five months and you see Monica roaming free about her home or perched on top of her giant cat tree. She is still cautious toward many things, but old habits die hard, says Ekaterina. "She always needs a small push of her boundaries and then she makes a new step toward socialization."
Their time with each other hasn't been free of frustration or obstacles, but Ekaterina is very proud of the progress she and Monica continue to make together. She stays in touch with Krystal by providing her with pictures and updates. And Krystal says the updates help remind her how a little bit of patience and kindness can make a world of difference for animals ― one step at a time.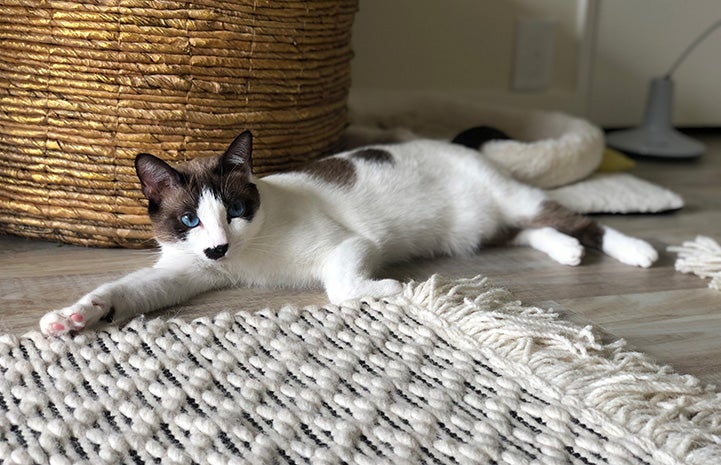 Have some room to spare?
Giving pets a loving place to stay while they wait for their forever homes makes a difference in their lives forever.
Read more
Great Dane-mastiff mix is large, in charge and now basking in love
Adopted cat lands a job and lives a life worthy of a storybook ending