Fostering dogs a family affair for this foursome
Family with two young girls is hooked on helping homeless dogs after fostering two senior basset hounds.
By Nicole Hamilton
Stephanie Cochran was perusing Facebook one day when she saw a post that made her stop scrolling. Best Friends in Northwest Arkansas was hosting a slumber party event that matched dogs with foster volunteers for a weekend of fun. Since her young daughters, Harper and Caroline, had been campaigning for a puppy, Stephanie thought fostering a dog would be a good alternative.
At the time, the Cochran family included two senior dogs, a 12-year-old shepherd mix named Shyla and a 15-year-old beagle named Hagen. But even though Harper and Caroline loved the senior dogs, Stephanie and her husband, Paul, took care of them the most. They thought that fostering a puppy would not only stop Harper and Caroline's campaigning (at least for a little while), but it would also teach them about responsibility as they learned to care for the puppy.
"It sounded super fun and a way to welcome a dog into our home without the commitment," says Stephanie, who immediately threw her hat (or more accurately, her house) into the ring. A few days later, the Cochrans visited Best Friends to meet the puppy they would bring home for the slumber party — that is, until they met two senior basset hounds named Macy and Roxie. That's where things took a slight detour.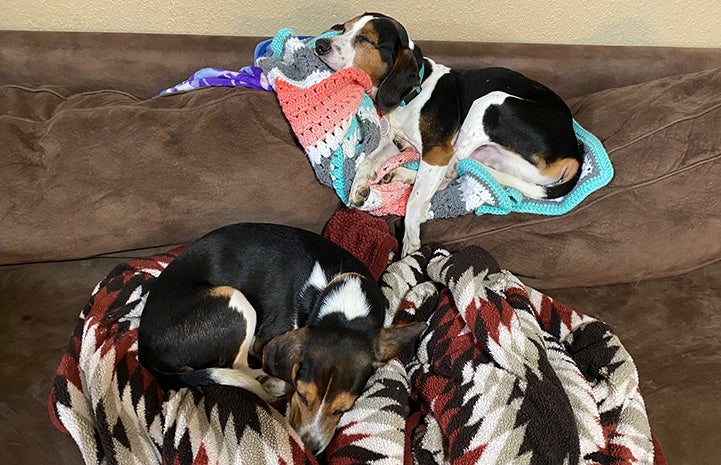 Weekend of fostering inspires a new routine
It was Paul who first spotted Macy and Roxie while they were standing together with Best Friends volunteers. Paul, who Stephanie describes as an "old soul," didn't want to leave without the two senior dogs. It took a little bit of work to convince Harper and Caroline, but they were happy, nonetheless.
[Along came Dolly: Mama dog goes from shelter to home]
The slumber party was a great success. Macy and Roxie attended a triathlon event to cheer on Paul, wearing matching "adopt me" bandanas made by Caroline and Harper. At home, all four dogs got along wonderfully, and Harper and Caroline got to experience fostering pets for the very first time.
When the weekend was over, it was tough for them to say goodbye to Macy and Roxie. Still, they understood that someday soon they'd get adopted (and they have), which made them feel much better.
After the slumber party, the Cochrans took a break from fostering, but when they learned that Best Friends was in need of temporary homes for 17 dogs from a shelter in Pine Bluff, Arkansas, they decided to jump back in. Enter Andy, a border collie mix who Stephanie sums up in one word: perfect.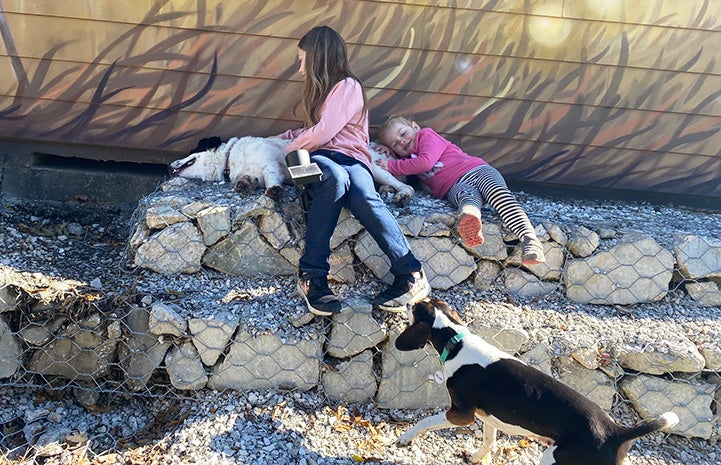 Mastering manners in a foster home
Andy (AKA "the best dog ever") had been with the Cochran family for about a week when another of the family's dogs (Shyla) passed away. It was a difficult time made a little easier thanks to Andy's calm and loving presence. Since Harper and Caroline had to help care for Andy, they were able to focus on him rather than on the loss of the dog they'd known all of their lives. It also helped Hagen, who had always lived with other dogs.
The Cochrans fostered Andy for a little over a month. That gave them enough time to help the young dog learn how to break his habit of jumping on people when he met them. He was equal parts cuddler and athlete, and he loved sleeping in the girls' room and accompanying Paul on his runs.
[Loving a shy dog just the way he is]
When Stephanie learned that a couple (Jonathan and Carly) was interested in meeting and ultimately adopting Andy, she knew it would be difficult for Harper and Caroline to hear. And it was at first. But it helped that the girls took part in the meet-and-greet with Jonathan, Carly and Andy. Recently, they had a reunion with Andy and got to see how happy he is with his new family.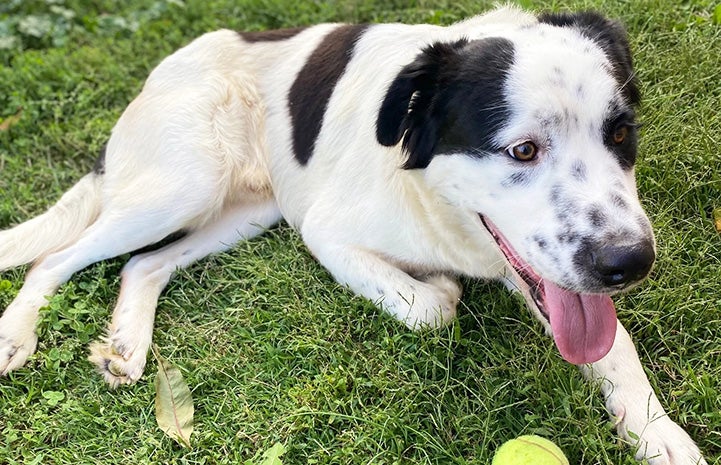 Fostering helps sisters learn valuable lessons
"Fostering taught (Caroline and Harper) that it can be hard on the heart," says Stephanie. "You bring dogs in, you love them and then you let them go. It's a hard life lesson, but it's an important lesson, too."
Caroline and Harper have also learned that when a dog they've fostered is adopted, it means they have room to welcome another dog and have a whole new experience. So far, the Cochran family has fostered three more dogs from Best Friends (a pair of beagles named Zoom and Fallon, and a lab mix named Kai). They have no plans to stop fostering, and for that, the team at Best Friends in Northwest Arkansas is more than a little grateful.
 "We are incredibly lucky to have a wonderful family like the Cochrans as fosters for dogs in our community," says Madison Bigelow, Best Friends community engagement specialist.
Stephanie will tell you that what she and her family are doing isn't extraordinary. But the fact that all of the dogs they've fostered are happy and thriving in their homes tells a different story. "The joyful home that the Cochrans provide for the dogs they foster is invaluable," says Madison. "They're not only helping to save pets' lives, but they're improving pets' lives, too."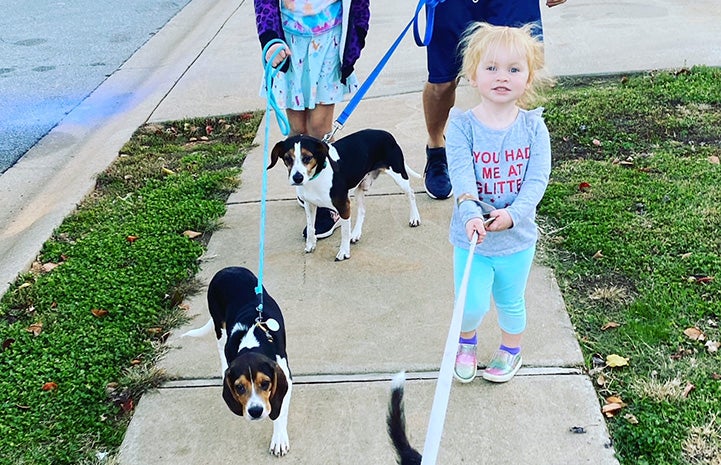 You can help save lives
Give comfort and joy this season by fostering pets from your local shelter.
Read more
The myth of the perfect pet adoption
5 sweet updates from Best Friends Network partner