Second chance for more than 1,000 cats in New Mexico
A Best Friends grant and help from the embed team supports Farmington Animal Services in New Mexico with new humane solutions for cats
By Nicole Hamilton
When employees at a tire shop in Farmington, New Mexico, discovered that young cats had made themselves at home on their property, they knew they had a problem on their hands.
It wasn't that they disliked having the cats around. In fact, the cats were keeping mice away from the shop, which was a big help. The issue was that the cats weren't spayed or neutered, and without help from the local shelter, the shop would have an even bigger conundrum on its hands when the cats started having kittens.
Luckily, all it took was one phone call to the Farmington Regional Animal Shelter to get the wheels in motion to trap, vaccinate and spay or neuter the cats, and then return them to the property and the life they've always known (minus the ability to procreate).
Just a little over a year ago, the cats would have been at risk had they stayed at the shelter. That was before March of 2020, when the shelter began working with Best Friends to launch a comprehensive community cat program, with the goal of helping save hundreds of Farmington's cats.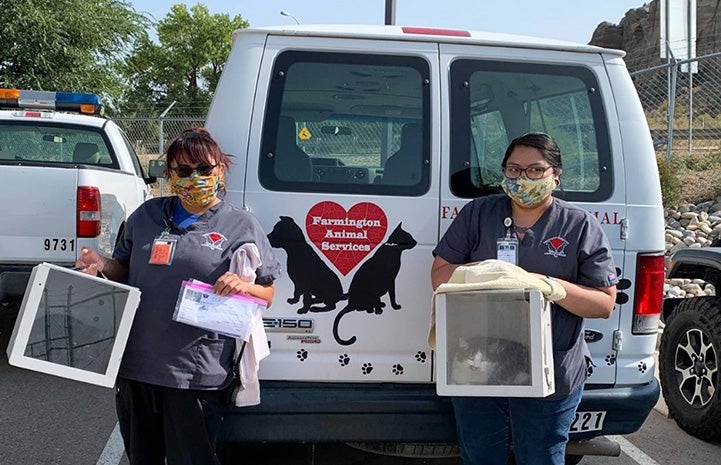 Support for New Mexico shelters
Early last year, the Best Friends embed team took a closer look at New Mexico and identified five shelters (including Farmington) that needed help raising their save rates for cats. For example, Farmington's save rate for cats in 2019 was around 52%.
Many of the cats brought to the shelter were not socialized enough for adoption, so it was decided to start a barn cat program; however, the shelter had a difficult time finding property owners willing to give working cats a try.
[Best Friends grants help bring vet care to Navajo Nation]
With the help of Best Friends grant funding, the shelter was able to launch a community cat program that could help all outside cats regardless of temperament, with the goal of providing lifesaving solutions for about 800 cats a year. The grant covered spay/neuter surgeries, as well as training and supplies for the shelter staff. It also gave the shelter's animal control officers (ACOs) tools to help them communicate with the Farmington community about the benefits of trap-neuter-vaccinate-return (TNVR), the process by which a cat is humanely trapped, spayed or neutered, vaccinated and returned to the location where it was found. That way, cats could stay at their outdoor homes and out of the shelter.
Marla Browne, Best Friends national embed program manager, says that Farmington's new TNVR program represents a major shift. "Shelters are used to being the place where people can drop off animals in need of help. Now, through community-focused sheltering, they can take part in helping the animals in their community instead. And the reality is that most people do want to help. We just have to ask."
Getting the community onboard, slowly but surely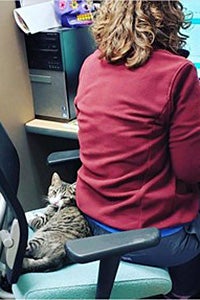 The Best Friends embed program usually includes several in-person training sessions, but the coronavirus pandemic made it necessary for the team had to get creative and pivot, starting with switching Farmington staff training from in-person to remote.
[Housing the homeless: Partnership benefits both pets and people]
Stacie Voss, the shelter's animal welfare director, says the change of plans came with a silver lining: "It gave us a chance to start the program slowly and that gave us time to get the staff on board to make sure it was a success."
Such a huge shift in approach to helping outdoor cats was apt to make the change difficult for residents who didn't want the cats returned to where they were already living. "The shelter hasn't done a lot publicly to talk about the program, so there have been more one-on-one conversations about the program," says Stacie.
Those conversations have been part of the program's success. Stacie says most outdoor cat caregivers are thrilled and most of the time willing to work with residents. And those who call the shelter complaining about cats on their property usually accept the shelter's new TNVR policy, once they talk it through with the staff.
Program helps cats and people, too
When people from the Farmington community request help from the shelter team on outdoor cats, the shelter allows them to utilize humane traps (purchased with funds from Best Friends). After they trap the cats, they can bring them in to be spayed or neutered and vaccinated. The shelter team also provides helpful guidance and support to people trapping cats for the first time.
Employees at the tire company received just such help, and they ended up trapping a total of five cats, likely part of a group living in the parking lot utilized by both the tire company and Walmart. After setting up additional traps, the shelter team trapped four more cats and all of them were eventually spayed or neutered, vaccinated and returned to the lot.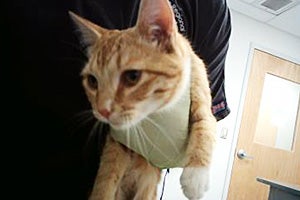 Tabatha Rhodes, community support specialist at the shelter, says the new TNVR program isn't just helping cats, but it's also made a big difference in morale at the shelter. The program makes it possible for her colleagues to set cats free, when previously they would not have been able to do so. And it's made an impact on Tabatha, too, especially because of a cat named Milo.
"I always had a hard time returning the friendly cats," says Tabatha, who worried about Milo, a personable orange-and-white tabby returned to where he was originally picked up. It wasn't long before she received  a call from an ACO officer saying they were bringing in a cat they'd trapped who sounded a lot like Milo.
Sure enough, it was indeed Milo — only this time he arrived at the shelter sporting a pink collar. "Someone was taking care of him. It made me realize that just because a cat lives outdoors doesn't mean they aren't cared for," says Tabatha.
Helping more than a thousand cats in eight months
From January to August of 2021, the shelter provided lifesaving outcomes for 1,101 cats. Marla says the outstanding achievement, made possible through collaboration, is especially significant because it took place during a pandemic, without in-person visits from Best Friends. But she's not surprised. "They've done it through grit and determination," she says. "They're sustaining lifesaving programming, and this is only the beginning."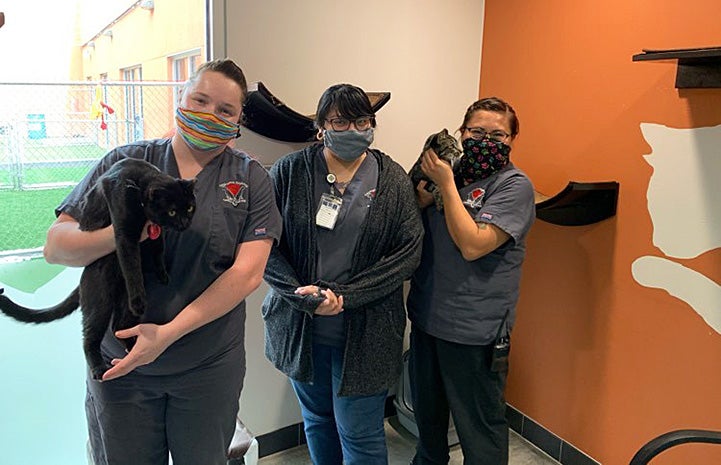 Help cats where you live
Cats are some of the most at-risk animals in shelters. You can help change that.
Read more
Scared mama goes from stressed to spotlight
Senior dog finds calling as a foster dad
Nevada takes a big step forward for dogs with new law
Photos courtesy of Tabatha Rhodes and Best Friends staff