Tiny kitten goddess with 'kittentude' comes back from the brink
Once ailing kitten, aptly named after the Greek goddess of spring, overcomes illness with the help of Best Friends to flourish in a home.
By Natalie Wordtmann
In Greek mythology, the goddess Persephone represents the coming of spring. It was this connection that inspired Melissa Martinez, Best Friends lifesaving and care specialist in Salt Lake City, to name the little girl kitten whose sass and spunky demeanor helped her overcome the significant health challenges she encountered when she was only a few weeks old.
A good Samaritan found Persephone with her siblings in the window well of a Utah home. While her siblings were much stronger and had met the typical developmental milestones expected of four-week-old kittens, Persephone was lagging behind. The extra-tiny kitten was brought to Best Friends in Salt Lake City from Salt Lake County Animal Services and was taken straight to the vet in the hope that she could be saved.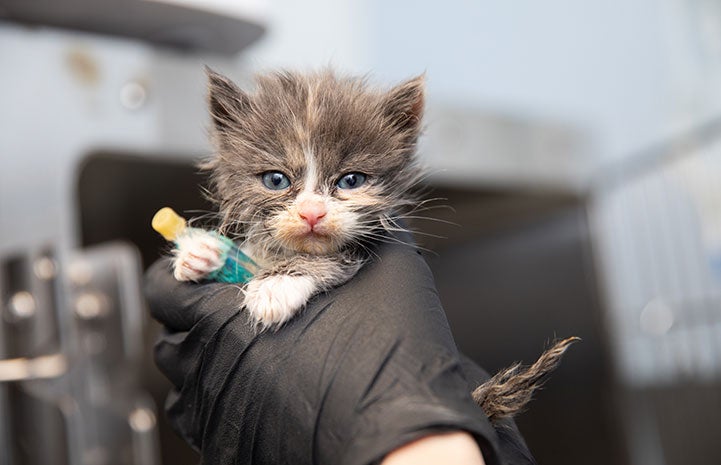 Saving a sick kitten
The medical team in Salt Lake City acted fast. Persephone was underweight, dehydrated and hypothermic, so she needed to be warmed up and hydrated right away. She was hooked up to an incredibly tiny IV and placed in an incubator.
When Melissa came to work the morning after Persephone arrived, she went to visit the kitten first thing. "To my surprise," she says, "I found her pacing back and forth totally annoyed to be cooped up in the incubator."
[Ailing kitten gets help when he needs it and a kitten friend, too]
What else would you expect from a kitten named after a goddess? It was obvious just how impeded she felt by the IV designed to keep her alive. In fairness to Persephone and her tiny frame, the IV took up her whole little leg and made it more difficult for her to get up to shenanigans.
A few days later, after being hooked up to things that were getting in her way of exploring the world, vets felt Persephone was stable enough to leave the clinic and go into a foster home. Melissa leapt at the opportunity, excited to help Persephone on her healing journey.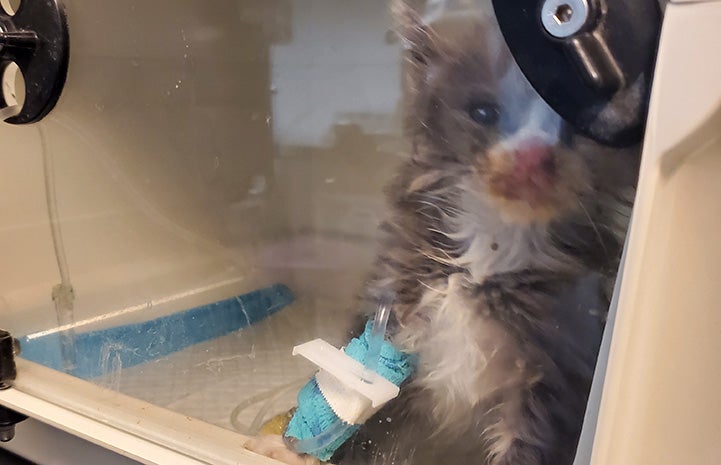 Extra love and care in a foster home
When Melissa took Persephone home, the kitten weighed a mere 230 grams, but at four weeks of age she should have weighed 400-450 grams. And although she was on a feeding schedule to help her gain weight, there was another challenge to overcome before she'd begin to truly thrive.
After about four days at home in Melissa's care, Persephone's condition took a turn for the worse, so she went back to see the vet again. It turned out that she had giardia, an intestinal bug. The medical team sent Melissa home with everything she'd need to help Persephone with this new challenge.
She spent the next week giving Persephone fluids, keeping her warm and comfortable, and carefully administering medications. Finally, Persephone began to stabilize and gain weight, and it wasn't long before she began hitting developmental milestones. She was growing fast, feeling good and was ready for the next step — being introduced to the other pets in the household.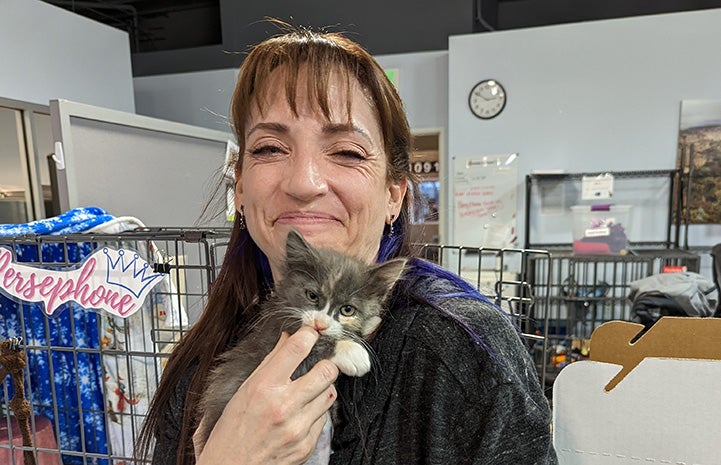 Confident kitty loves people, other pets
Meeting Melissa's dogs was a breeze for the confident and sassy Persephone. "She had this attitude of 'just wait until I get bigger,'" says Melissa. The little calico wasn't remotely scared and if she did get a little nervous, she wouldn't run away but instead would sit back and observe. Warming up to Melissa's cat took a little longer, but the two kitties got used to playing with one another through a gate, which gave them just the right amount of space to safely get to know one another.
[An itchy cat's total transformation]
After spending a total of 10 weeks in Melissa's foster care, Persephone was ready to go to a permanent home. Melissa felt Persephone would do best in a home with other play pals and that her adoptive family would have to be prepared to handle the "kittentude" she would surely bring to their lives.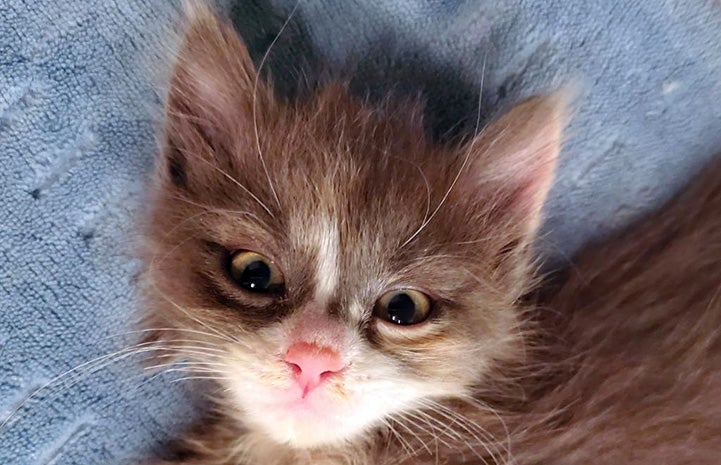 Once Persephone's photos and bio were posted on the Best Friends website, it only took one day for a family to adopt her.
True to her nature, Persephone was sure to show off both sides of her giant personality at the meet-and-greet, being both sweet and cuddly, but with a touch of spice as well. Persephone was going to soon find herself with other fur siblings she could try to reign over. Melissa was thrilled when the family decided to keep Persephone's name the same. "She's a very pretty prima-donna and I wanted her to have a name she could grow into," says Melissa. And grow into it she shall, thanks a veterinary team that saved her, love and care in a foster home, and the love of a brand new family she can now call hers.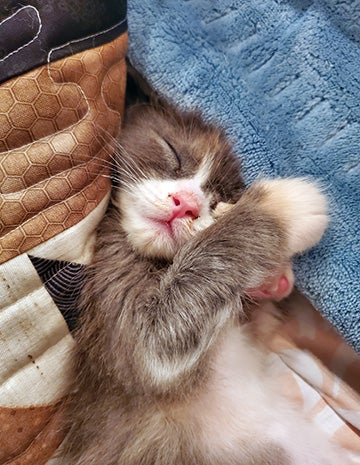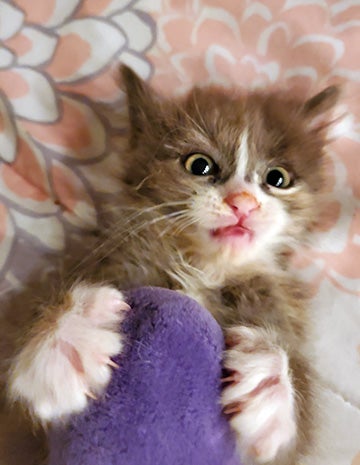 Ready for a tiny houseguest (or a few)?
Kitten season is just around the corner, so now is the time to contact your local shelter and sign up to become a foster volunteer.
Read more
Bacteriotherapy puts kitten on the road to health
Escape artist cat chooses home life over the great outdoors
Paralyzed kitten gets a custom set of wheels and a family
Photos by Sarah Ause Kichas and courtesy of Melissa Martinez