5 animal shelters with soaring cat save rates
Best Friends' embed program is helping these shelters save more cats than ever before.
By Nicole Hamilton
The five shelters below may be in different parts of the country, but at the beginning of 2020, they all faced a similar challenge: Despite all their hard work, their save rates for cats remained low. What they needed was help implementing proven strategies to better support people and cats in their communities.
Enter the Best Friends national embed program, made possible by a grant from Maddie's Fund®. Two years ago when the pandemic was just beginning, the embed team began working closely with these shelters, providing them with the tools they needed to save more lives ꟷ from funding for community cat programs (including spay/neuter surgeries) to training for shelter staff, conducted online or on-site by the embed team.
The result has been enormous progress, says Marla Browne, Best Friends national embed program manager. "These shelters reached their highest-ever cat save rates, with one hitting that 90% milestone, the benchmark for achieving no-kill."
Learn more by reading the following profiles of five shelters that have changed things for the better in their communities.
Franklin County Animal Services in Franklin, North Carolina
When the embed team started working with Franklin County Animal Services in 2020, the goal was to help the shelter increase its save rate for cats, which at that time was 42%.
The team worked alongside the shelter staff to develop a plan that gave the community easy access to free spay/neuter surgeries and vaccinations for community cats. It also provided both training for shelter staff to better help Franklin County residents who take care of cats in their neighborhoods and humane deterrents for residents who wanted to keep community cats off their properties.
In 2021, the cat save rate at the shelter climbed above 70% and Lynn Bowling, shelter director, says it was due in large part to collaborating with Best Friends.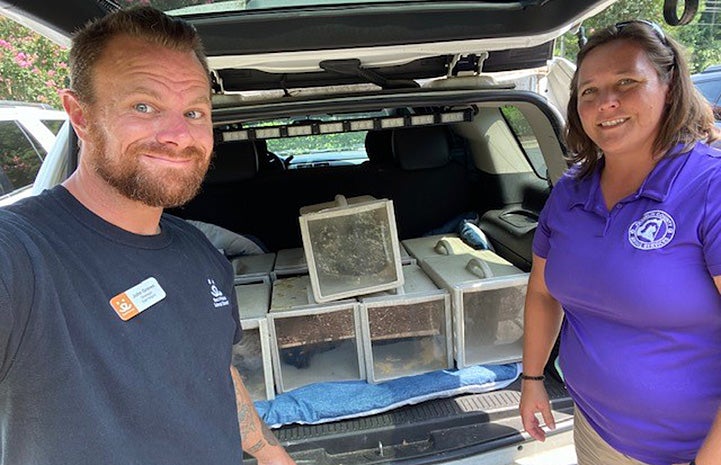 Antietam Humane Society in Waynesboro, Pennsylvania
With help from the embed program, Antietam Humane Society was able to open its own spay/neuter clinic. "We have spayed or neutered over 200 cats and counting since the end of October 2021, which has helped us decrease our length of stay," says Kacie Morrell, executive director. The program also gave the shelter the ability to provide TNVR for community cats and return them to the exact location they came from. In the past, says Kacie, those cats would have been euthanized.
[Antietam Humane Society turns things around for cats]
As a result of the embed program training, the staff at Antietam felt empowered to make decisions. They embraced the opportunity to learn new ways of lifesaving, says Kacie, and in turn, the animals in their care thrived.
In 2019, the cat save rate at the shelter was around 38%. After working with the embed team, it rose to nearly 49%, and in 2021, it was more than 81%.
Farmington Regional Animal Shelter in Farmington, New Mexico
In 2019, the save rate at Farmington Regional Animal Shelter for cats hovered around 52%. This was due in large part to the fact that, at the time, the shelter didn't have the tools needed to launch a community cat program — that is, until it received support from Best Friends.
[Second chance for more than 1,000 cats in New Mexico]
Funding, training and guidance from the embed program enabled the shelter to make big changes, which included launching a community cat program with a first-year goal of providing lifesaving solutions for about 800 cats.
In 2021, the shelter's save rate for cats was around 83%. Stacie Voss, shelter director, says that community support for the shelter's new approach has been outstanding. In fact, she says, it's an enthusiasm they've never seen before, which makes the team very hopeful for the future.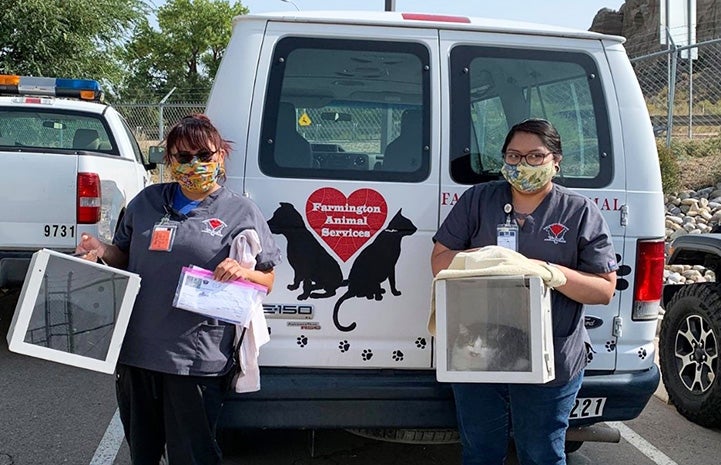 Aztec Animal Shelter in Aztec, New Mexico
In 2019, the cat save rate at Aztec Animal Shelter was just 28%. Then, in 2020 after the embed team began working with the shelter, its save rate rose to 45%. In 2021 it was 85% and Marla says that with the progress they've made thus far, coupled with efforts to sustain funding, the save rate is poised to be even higher in 2022.
The embed team helped Aztec implement a kitten diversion program that prevented the second most at-risk population of cats from entering the shelter. Embed team members also met regularly with Aztec staff to help create a new community cat program, talk through challenges and help staff members gain confidence as they started to roll out the changes.
West Valley Humane Society in Caldwell, Idaho
With help from the embed program, West Valley Humane Society was able to implement some big changes to help cats in its community. In addition to purchasing new humane cat handling equipment and humane deterrents, West Valley was able to begin offering more spay/neuter opportunities for community cats.
Staff training on everything from humane cat handling and decompression to conflict mitigation was also critical in helping raise the save rate at West Valley. And raise it they certainly did. In 2019, it was 54%, and since then it has been steadily on the rise, reaching 91% in 2021.
The progress at each of these shelters has been steady, which means that the higher save rates are likely here to stay. "Despite an ever-changing landscape that limited access to resources and created staffing shortages, the shelters were able to stay the course through hard work," says Marla. "This bodes very well for sustainability and the future for cats in these communities."
You can make a difference for cats in your community
Connect with your local shelter to learn how you can get help save cats near you. 
Read more
4 volunteers helping animals in unique ways
Tiny goddess kitten with 'kittentude' comes back from the brink