A once-upon-a-time grumpy cat finds a best friend
Chloe made it clear when she came to Best Friends that she was not interested in living other cats — that is, until a sweet orange tabby came into her life.
By Ana Merkulova
Is that a giant cinnamon roll on top of a cat tree? If you neglected your glasses, you could be forgiven for mistaking Chloe and Ginny (asleep on the top perch of their tree) for a festive confection.
Chloe and Ginny like to stay close. "They cuddle together, groom each other and run around all day," says adopter Alyssa Willis. When one of them has to go to the vet, the other one misses her sister.
Despite their sibling bond, Chloe and Ginny didn't grow up together. In fact, when Chloe was at the Best Friends Lifesaving Center in Arkansas, she was listed as an "only cat," who absolutely could not stand being around other cats.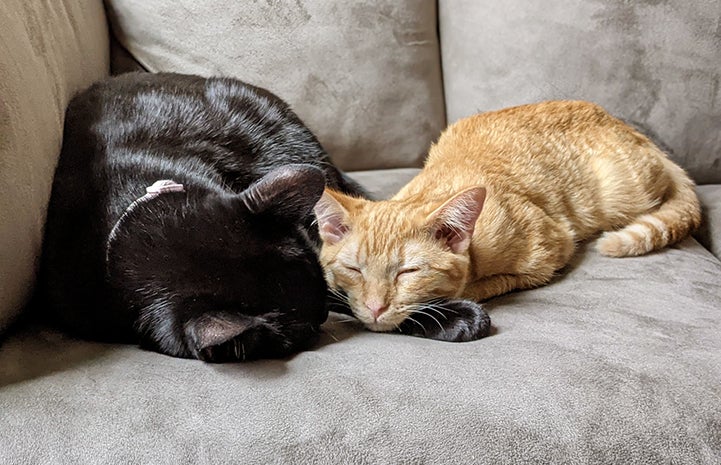 No other cats, please
Kathleen Lehman, who works at the center, remembers Chloe as a spicy, spirited character — "bitey" (she calls her affectionately) and friendly, but not afraid to let people know when she's had enough of that silly petting business.
Chloe grew up as the only cat in the house, so perhaps it's not surprising that landing in a place packed with strange felines wasn't her cup of catnip tea. There was enough hissing and swatting to land Chloe in a room by herself. "We figured she would be best as an only cat and with a more experienced cat person," says Kathleen.
Enter first-time cat people Alyssa and Fernando, who fell in love with Chloe and fully embraced her precocious ways. In fact, they were looking for a cat who'd be happy without a feline companion. They'd only had dogs in the past and there wasn't a cat to take Chloe home to.
[The 20-pound cat with 1,000 nicknames]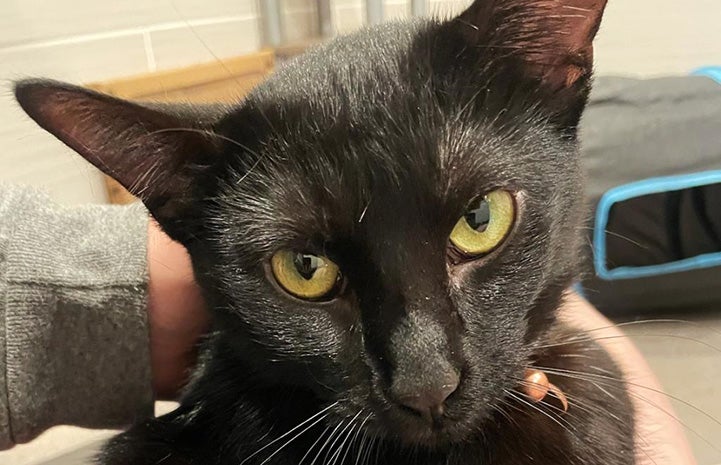 Being an only cat gets lonely
Chloe settled into her new home and for a while everything seemed just fine. But then they started to notice that she was agitated. Even after a day's good play session, she'd still have excess energy that would carry over into a restless night. She was lonely. As much as her new people loved her, they understood that she needed more attention than they could give. They contacted Kathleen to ask if there was any chance to pair up Chloe with another cat.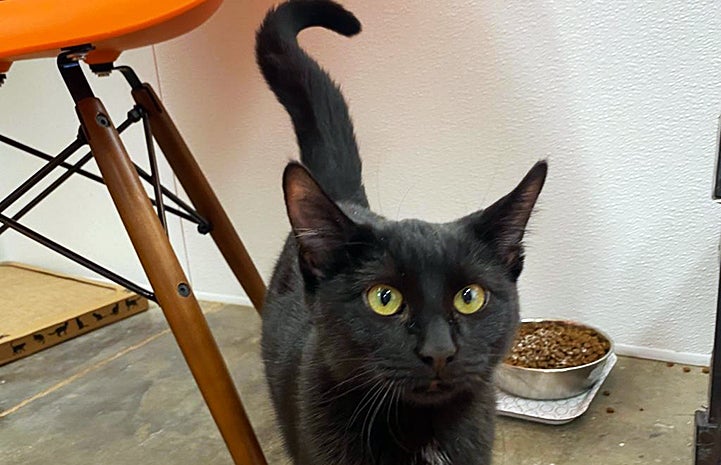 Challenge accepted: Kathleen gave Alyssa and Fernando detailed instructions about cat intros and explained that they would have to find someone laid-back and mellow, someone who would gel well with Chloe's assertive and confident personality. A sweet tabby named Ginny, newly arrived at Best Friends from Wilson Zoo Animal Rescue, was the perfect candidate.
[Second chance for more than 1,000 cats in New Mexico]
At first, things didn't look very promising, but after a week and a half, Alyssa and Fernando found it hard to keep Chloe and Ginny away from each other. They wanted to hang out together. Fast forward a few months and Alyssa calls them "inseparable." If you wanted to look up the definition of "best friends" in a dictionary, you might just see an adorable photo of Chloe and Ginny.
Many a feline shuttle through Best Friends on their way to new homes, and if there's anything to learn from Chloe's story, it's that cats will never cease to surprise us. And we wouldn't have it any other way.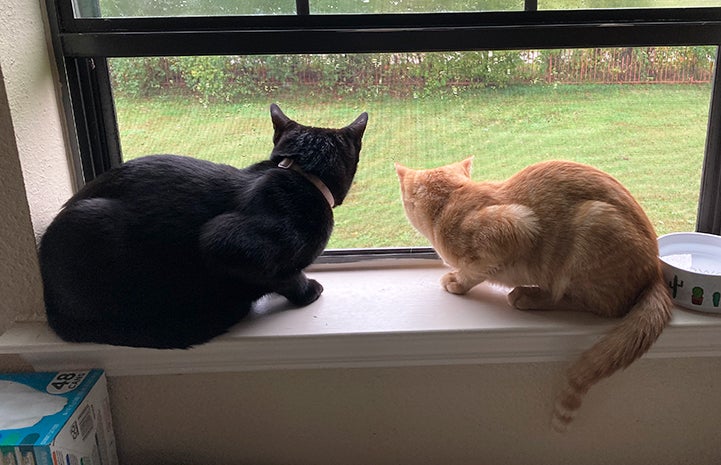 Cats make great companions
Whether you're seeking a cat to curl up with on the couch or a feline who prefers a bit more space, you'll find your cat match at your local shelter.
Read more
Big life for a much-loved-adventure dog
How Meow spent 22 years as the kitty queen of Piggy Paradise