Retirement for lifesaving: Couple puts in hours for Houston pets
Now that Bob and Penny Burleson have retired from demanding careers, they can finally focus on a cause dear to their hearts ― helping save Houston's homeless pets.
By Nicole Hamilton
When staffers at Best Friends in Houston needed someone to play Santa Claus for their upcoming Santa Paws Celebration this past December, they already knew someone who could play the role perfectly: Bob Burleson.
It wasn't just Bob's natural white locks (and beard to boot) that made him a shoo-in for the role of the North Pole's most famous resident. It was also the fact that he and his wife, Penny, both dedicated Best Friends volunteers, have been helping Houston's homeless pets for years.
Bob immediately said yes to the role. During the event he posed for photos with cats and dogs from Best Friends, never breaking character, not even once. Meanwhile, during the celebration, Penny went above and beyond for pets in a different way by helping to transport a mom dog and puppies from a local shelter to Best Friends.
"They are such a joy to be around and (they) inspire staff and other volunteers," says Best Friends community outreach coordinator Deyra Galvan. "Their love for animals, each other and for helping pets in need is a special combination that encourages others to join the movement."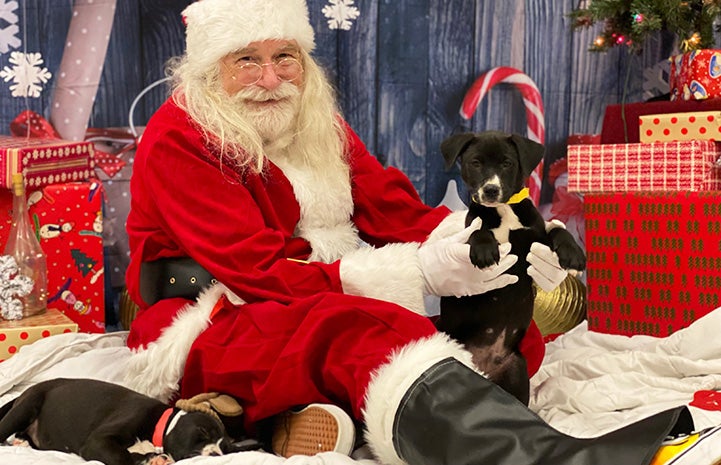 A longtime commitment to helping pets
This may have been the first time that Bob played Santa for a day, but it certainly wasn't the first time he and Penny cleared their calendar to help homeless pets. In fact, for more than five years they've transported cats and dogs from shelters to Best Friends, helped with trap-neuter-vaccinate-return (TNVR) efforts, and were familiar faces at NRG Arena where they helped pets displaced during Hurricane Harvey.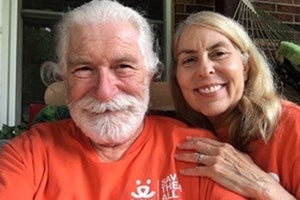 Penny and Bob have fond memories of their first visit to Best Friends Animal Sanctuary back in 2010. While vacationing in Las Vegas, they decided to spend the day in Kanab, take in the natural beauty of the red rock canyons and see the organization they'd been supporting for a long time.
[Blind puppy learns how to navigate his world]
Upon returning to Houston, they were inspired by what they experienced at the Sanctuary and continued to support Best Friends. But that was a time when their lives revolved around their careers, which left them with little opportunity to volunteer ― that is, until they retired in 2016.
"Retirement offered us the opportunity to help animals in a way that wasn't possible when working full time," says Penny. "Volunteering for Best Friends has found us a community of like-minded people. And we've been able to volunteer in a lot of different capacities."
Where there's a need, there's a way
Bob and Penny really stepped up their volunteer efforts immediately following Hurricane Harvey by helping with Best Friends' staging area for displaced pets in downtown Houston. From there, they became involved with the inception of Best Friends' community cat program, created in collaboration with Harris County Pets.
Bob and Penny were two of the first volunteers to help with the pilot program, and to this day it's near and dear to their hearts. Today, Best Friends continues its own TNVR efforts, independent of the one at the Harris County shelter. Bob and Penny volunteer with both. They also trap outdoor cats, get them neutered or spayed and vaccinated, and return them on their own.
"Our favorite volunteer experience had to be the day we released two kittens after they had been trapped, neutered/spayed and returned to their outdoor home," says Penny. "When we released the crying little kittens, the mama cat came running to get them and comfort them. The little cat family was reunited and stayed together in the bushes. It was as close to a Disney moment as we've ever seen."
The couple also regularly helps with pet transports ― from driving a group of kittens to and from the local spay/neuter clinic, to overnight interstate transports to receiving shelters in other states. One recent trip involved 40 hours of nonstop driving from Houston to the Sanctuary in an RV with more than 90 kittens. "These little guys required bottle-feeding every couple of hours," says Bob. "What an adventure."
[97 kitten, an RV, and one lifesaving mission]
While Bob and Penny often volunteer together, they also fly solo when the need arises. Take a recent transport from Houston to Minnesota, for example. "Bob went with another driver," says Penny, who opted to stay home to care for their four cats.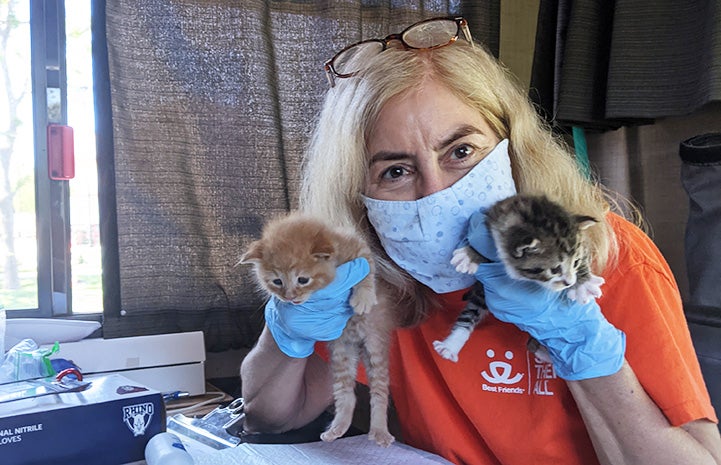 The many reasons to volunteer for pets
Ask Bob and Penny what they tell others who are on the fence about volunteering to help homeless pets, and they'll give you a list of very good reasons. "Volunteering helps animals live a better, healthier and happier life," says Penny, who adds that it helps people, too.
"The ways (for people to) help animals can take a variety of forms," says Bob. "Volunteering your time and resources can include helping find homes for homeless animals, comforting and socializing animals in a shelter environment or helping a friend or neighbor care for their pets when they can't do it themselves due to physical limitations."
Penny says donations of money and supplies are a great way to help rescue groups that provide services. "Every community has a need for people to help advocate for animals," she says.
Who knows? Maybe Bob will reprise his role as Santa Claus this holiday season. In the meantime, you can be sure that he and Penny will be somewhere in Houston, or perhaps on the road in a transport van, gifting the pets most in need with love and compassion.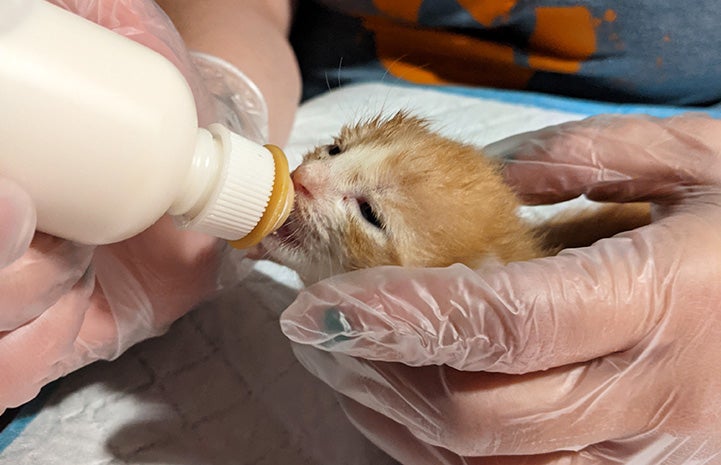 Lend a hand, and your heart
Whether you love dog walking or think transporting pets is the cat's meow, there are ample opportunities to volunteer and help pets in your community.
Read more
Sweet lullabies help a puppy heal and find a home
Adopted cat lands a job and lives a life worthy of a storybook ending