Image
Stories featuring the Vicktory dogs rescued from Michael Vick's fighting ring
Best Friends Animal Society was among the first national animal welfare organizations to advocate for the former fighting dogs rescued from the property of NFL quarterback Michael Vick. In 2008, 22 of the most traumatized dogs came to Best Friends, where the quest to rehabilitate them began.
Their amazing resilience — and journey back to health and happiness — proved there's no such thing as "too damaged" or "beyond hope," that no dog is inherently vicious, no matter his or her breed or background. That every dog should be treated as the individual he or she is.
Today, the dogs rescued from Vick's property are collectively known as the Vicktory dogs at Best Friends — and with good reason: They have overcome unimaginable abuse, and, with grace and courage, triumphed.
Reunion of rescued pit bull terriers from Vick's dog
fighting ring held at Sanctuary.

History of Vicktory dogs and changing public per-
ception about former fighting dogs explored.

Little Red passes her Canine Good Citizen test and
is now in a foster-to-adopt home.

Georgia passes her Canine Good Citizen test and is
also ready for the right adoptive home.

To see our entire playlist of videos featuring the Vicktory dogs, click here.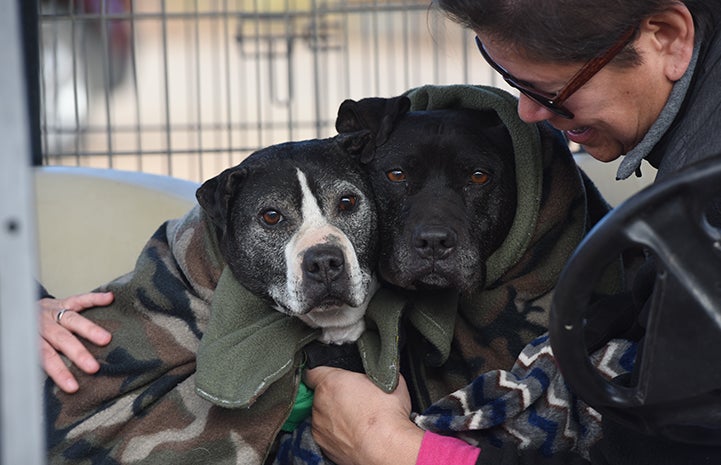 For Meryl, Mya and Curly, it's been a decade of hope, healing and unconditional love at the Sanctuary.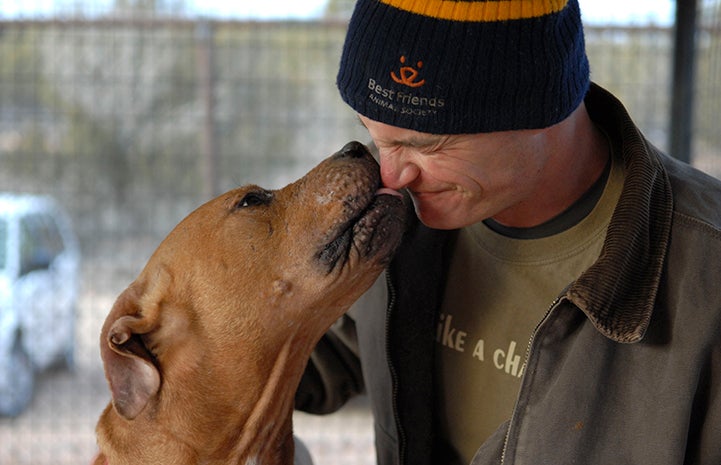 Ten years after the rescue of the fighting dogs from Vick's Bad Newz Kennels, adopters and others reflect on the Vicktory dogs' healing and progress. Read their individual stories.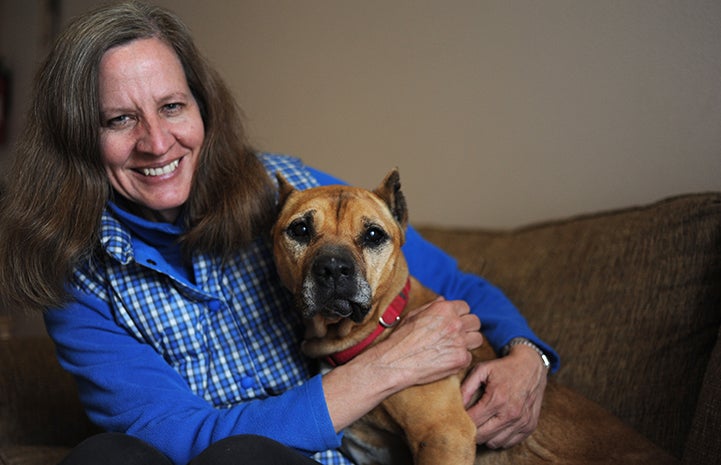 From the moment she met Georgia, Amy Egger knew she was the one. Their years together, and the stories of the other Vicktory dogs, inspired her to help other dogs live better lives.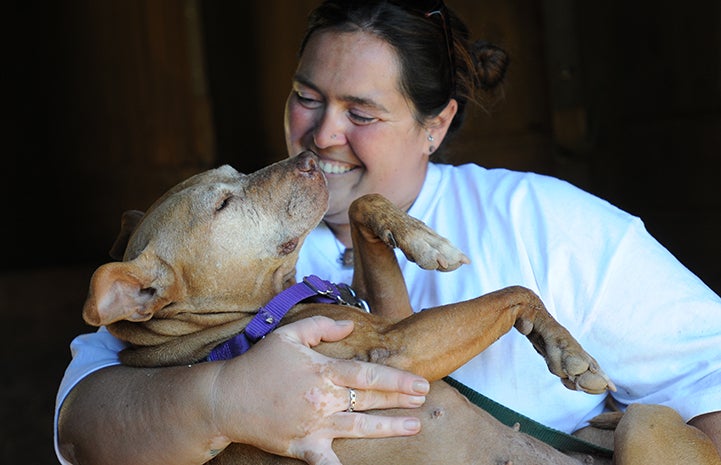 Best Friends caregiver and vet tech, Betsy Kidder, shares her memories of working with and rehabilitating the Vicktory dogs, including fostering both Oliver and Shadow prior to their adoptions as well as narrating as Little Red played with Beefcake (another dogfighting bust rescued dog) at the park.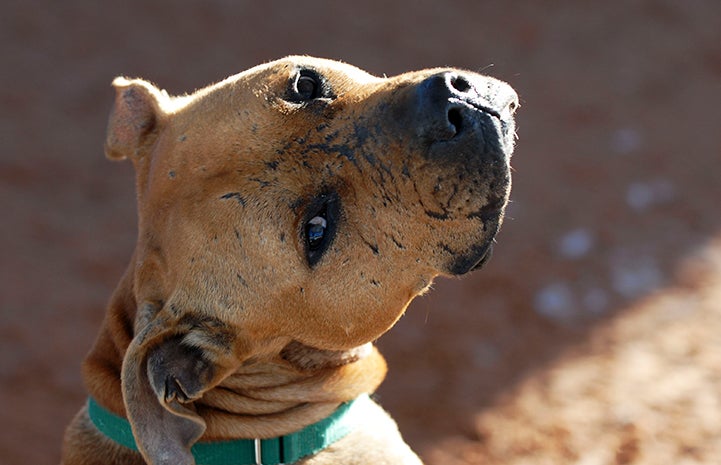 The first volunteer to interact with Vicktory dog Ellen after she received her purple collar recounts that special day and how Lucas remembered her.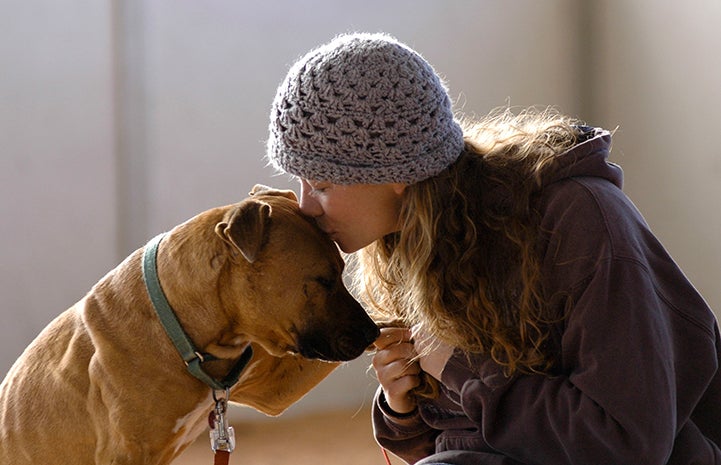 When the Vicktory dogs first arrived at Best Friends, they were fearful. However, given time the dogs settled in and caregiver Carissa Hendrick shares happy memories that have changed her life forever.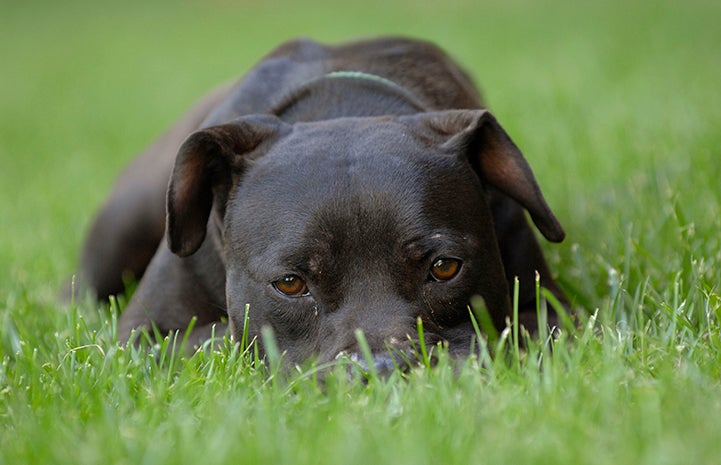 Volunteer and visitor director for Best Friends, Patty Hegwood, recalls when the Vicktory dogs first arrived at the Sanctuary, and as the dogs adjusted, her delightful outings with Ellen.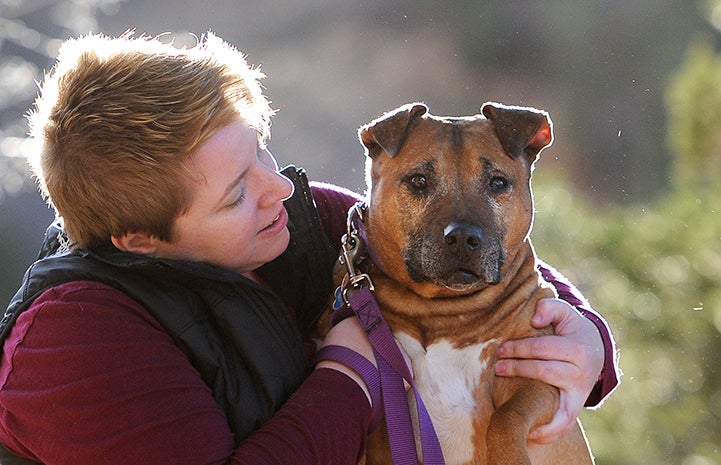 It wasn't just Oscar the Vicktory dog who changed when he was adopted and discovered that he loved all things soft - especially the couch. His adopter Rachel Johnson realized his presence changed her life forever as well.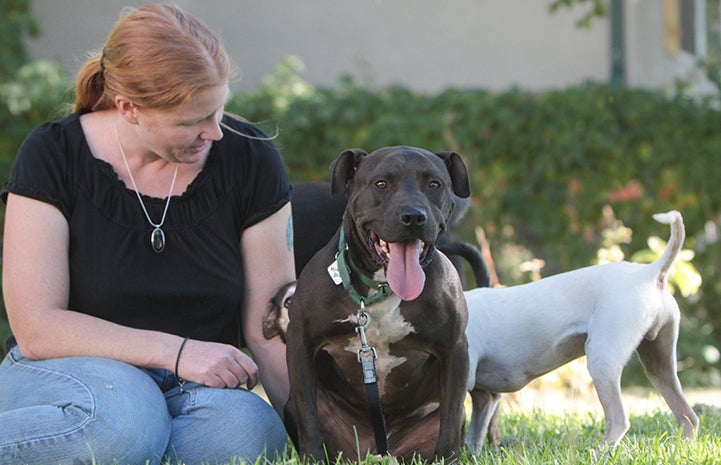 As the adoption manager at Best Friends Animal Sanctuary, Kristi Littrell got to know the Vicktory dogs very well. However, she learned true patience, working for four years to help her office dog Lance overcome his "text anxiety" to pass his canine good citizen test.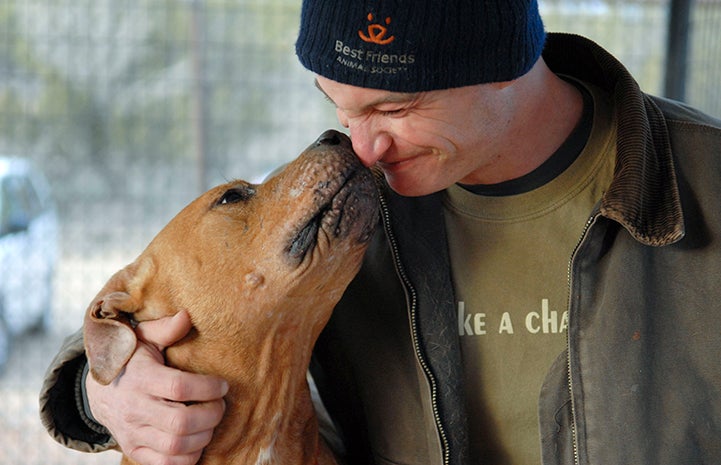 In January of 2008, 22 dogs from the Michael Vick dog fighting case arrived at Best Friends Animal Sanctuary in Southern Utah to begin their process of rehabilitation, training and healing. They have made amazing progress, many have been adopted into homes, and all are living full and rich lives. Read about the journey of the Vicktory dogs.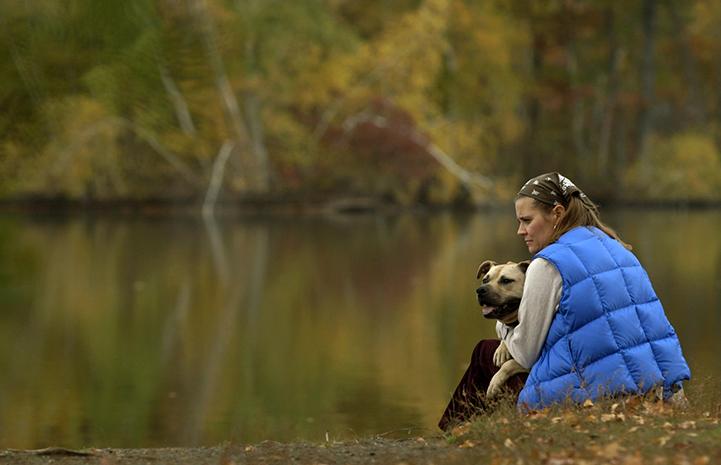 The Vicktory dogs' inspirational story was captured in the award-winning documentary The Champions, which follows five of the dogs as they transition from life in a fighting ring to a life using their fighting spirit for a second chance.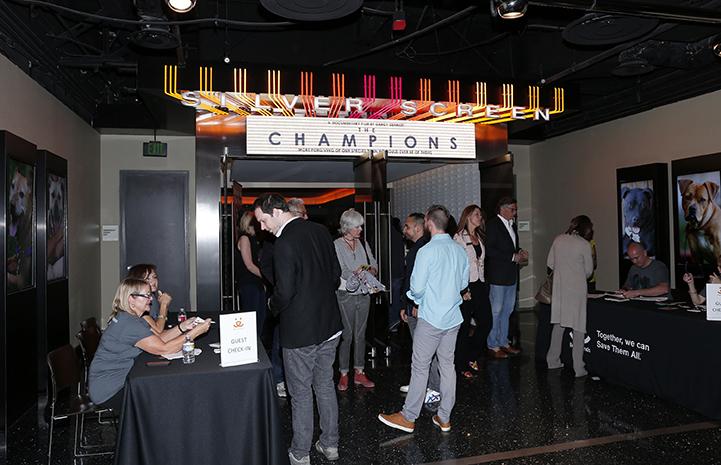 The Champions is more than just a film. Like many documentaries, it was made to give people a deeper look at something worth caring about — something worth changing.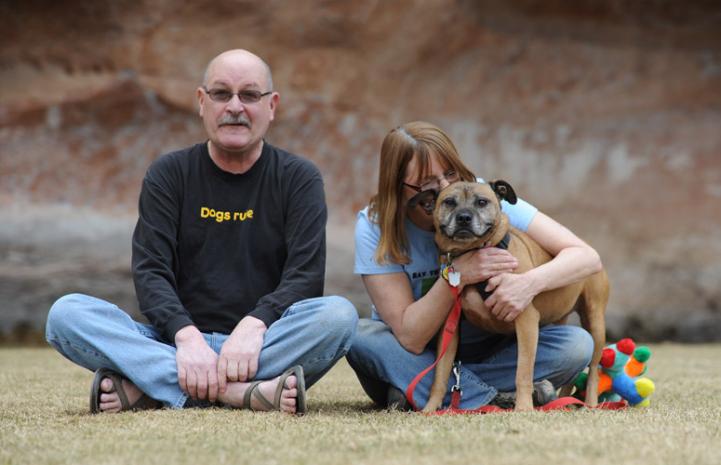 Vicktory dog Ray leaves behind the many people who loved him with a message of resilience and hope. Jacque Johnson, Ray's adoptive mom, explains, "The day Ray came home was one of the happiest of my life. ... He enjoyed meeting new people, something that is difficult for me. But his insistence on being social meant I had to learn to talk to strangers. He helped teach me that some things are just not important. ... Just spending time together is all we really needed to be happy."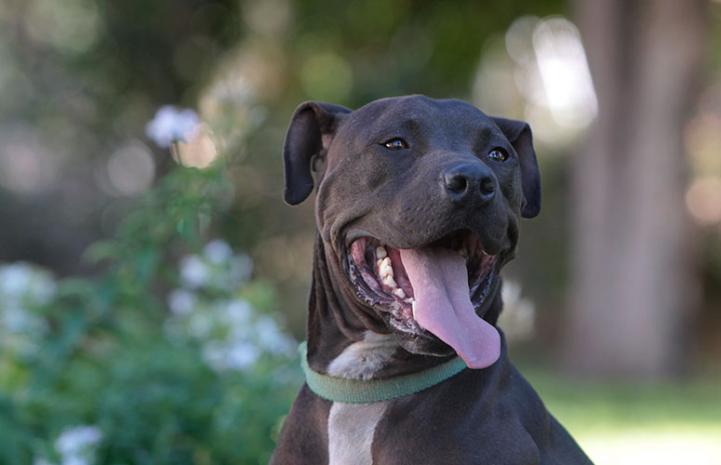 Though Vicktory dog Lance has crossed the Rainbow Bridge, his adoptive family and Best Friends Animal Sanctuary caregivers and others celebrate his life and the happiness he shared with all who were fortunate enough to be part of his journey.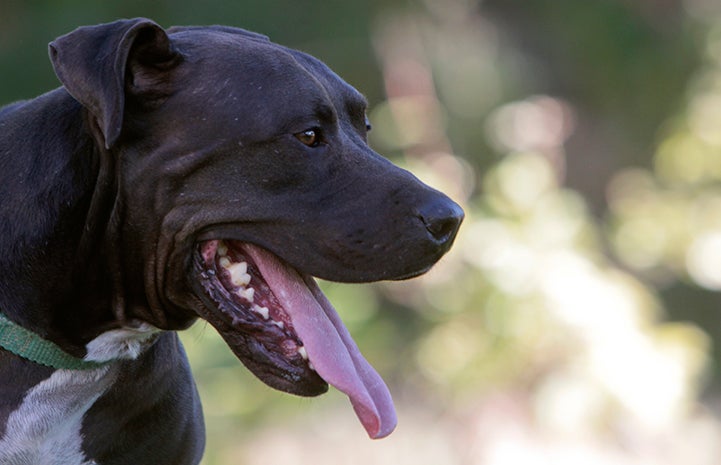 Lance the Vicktory dog has crossed a huge milestone: he passed his Canine Good Citizen test! This is a multi-part test during which a dog must show that he can handle real-life scenarios and stressful situations well. Lance has now been cleared to be adopted by the couple who applied to adopt him several years ago.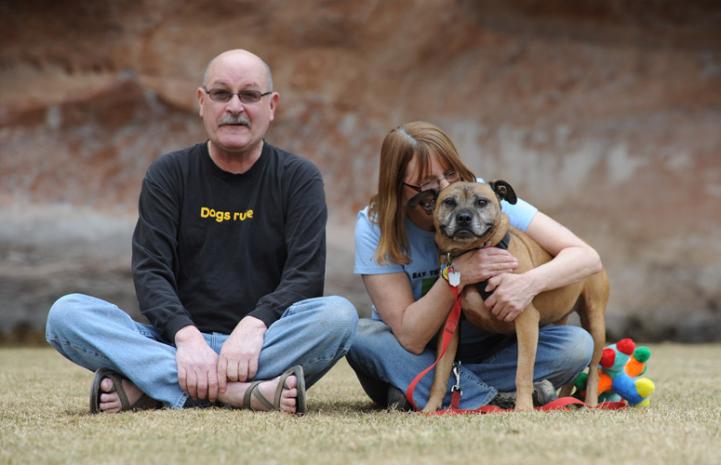 What would you sacrifice for true love? What big changes would you be willing to make in your life? Jacque and Kevin Johnson faced these questions six months ago when they fell for Ray, one of the Vicktory dogs (the dogs rescued from NFL player Michael Vick's dogfighting ring).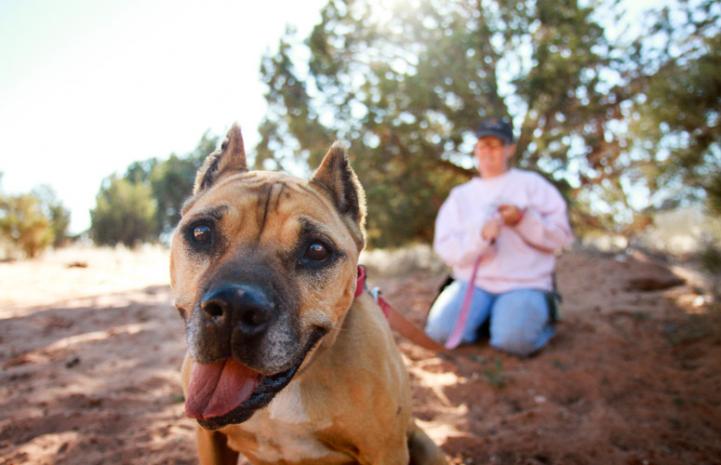 Georgia, one of the most well-known and loved of the dogs that Best Friends took in from the Michael Vick dogfighting case, lost her battle with kidney failure yesterday. To honor her, we'd like to share words from some of the people who knew her best.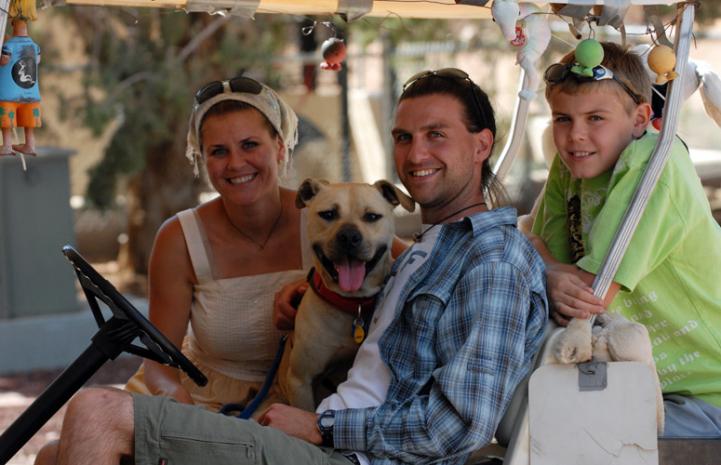 Rhode Island governor Lincoln Chafee signs House Bill 5671 into law that prohibits breed-specific legislation. Handsome Dan, a pit bull terrier rescued in the Michael Vick dog fighting bust, inspired the bill by showing that dogs should be assessed on an individual basis, which keeps communities safer than restricting an entire breed.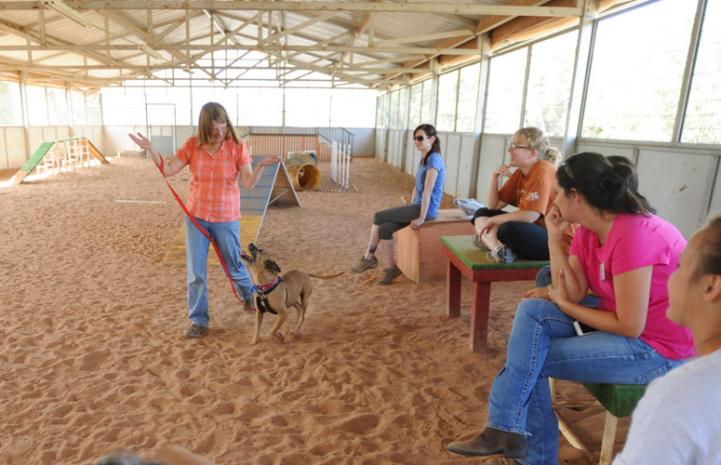 It goes without saying that the Vicktory dogs (the dogs rescued from NFL player Michael Vick's dog-fighting ring) have endured some dark days. But, for seven-year-old Ray, things have just gotten a whole lot brighter. He's following in the footsteps of Layla, the Vicktory dog who spent some time with the folks in Parrot Garden, passed her Canine Good Citizen (CGC) test, and "graduated" into a six-month foster-to-adopt situation in February of this year.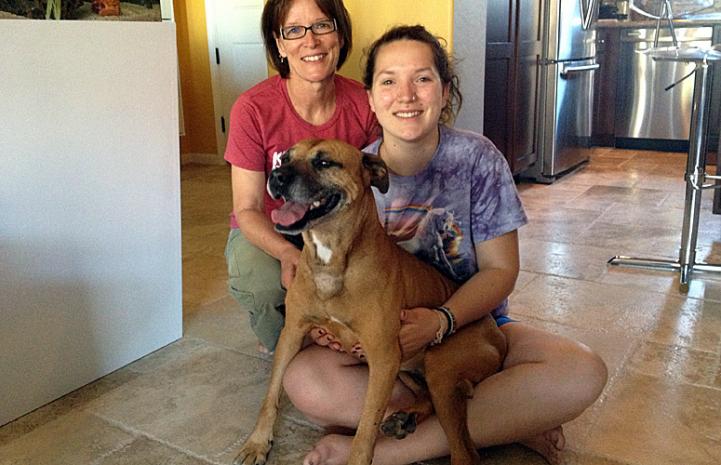 Vicktory dog Layla recently passed her Canine Good Citizen test and became eligible for adoption. As luck would have it, a certified dog trainer who was scheduled to do an internship at Best Friends Animal Sanctuary fell in love with Layla and vice versa. Layla is now in a home, in a foster-to-adopt situation.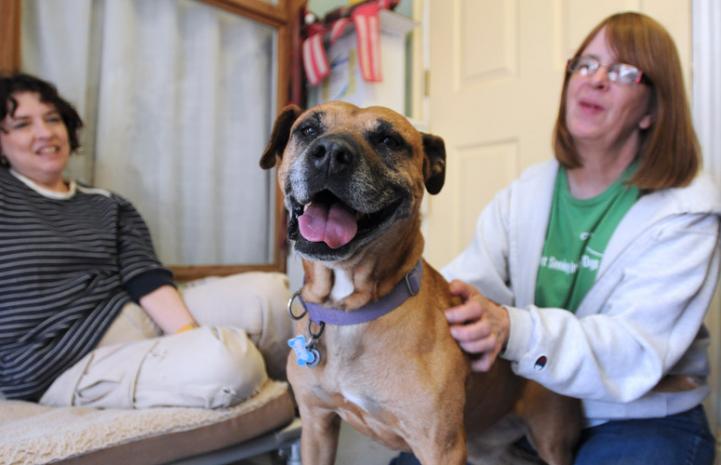 Former Michael Vick dog Layla passes her Canine Good Citizen test, which is a court-ordered requirement for all of the Vicktory dogs before they can be adopted into a family. Layla had severe fear issues as a result of coming from an abusive dog fighting situation that Best Friends trainers and staff worked with her to overcome, employing some innovative tactics.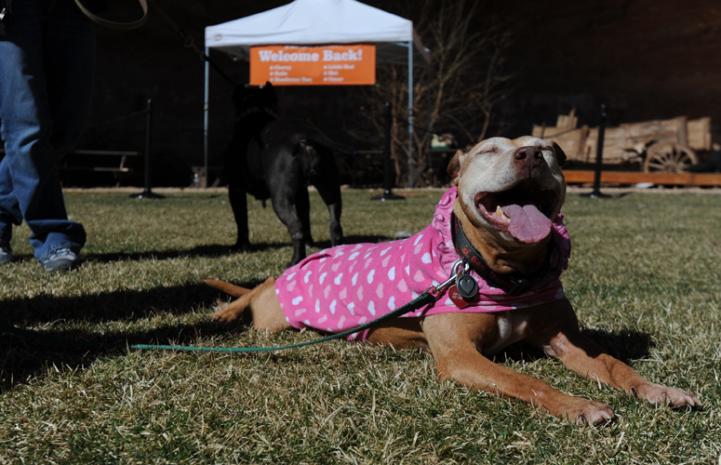 Since arriving at Best Friends Animal Sanctuary, the dogs who were forced to fight as part of Michael Vick's dog fighting ring have come a long way. Read an update on the pit bull terriers who have shown that all dogs, despite the abuse they have suffered, deserve a chance at healing, and to be the loving animals they were meant to be.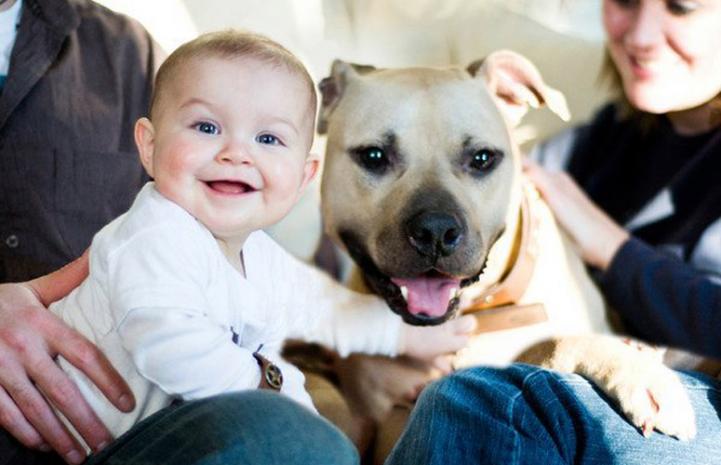 Handsome Dan has been adopted into a loving family of his own. In this interview, Handsome Dan's dad describes what life is like for Handsome Dan now, how he loves his family and is a 'nanny dog' to the couple's toddler, and what people can learn from this former fighting dog.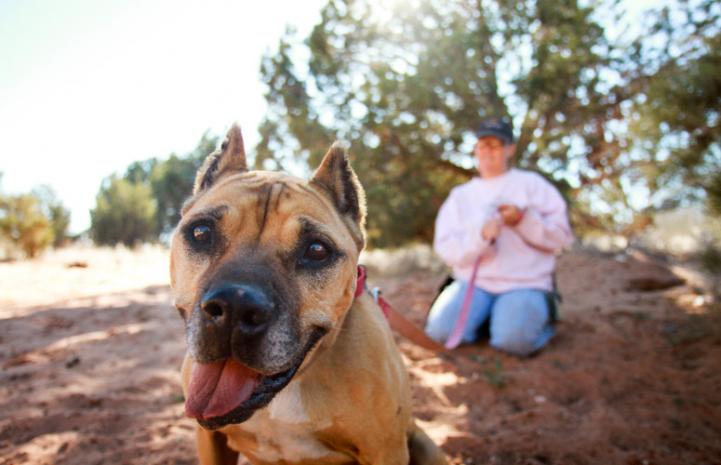 Much-loved pit bull terrier Georgia passes away, leaving a legacy of love and hope. Her adoptive mom, a Best Friends trainer, and a Best Friends caregiver reminisce about how getting to know Georgia was a gift; how funny, goofy and stubborn she was; how hard she worked to pass her Canine Good Citizen test; and how she helped save the lives of other dogs from fighting rings and abusive situations by proving all animals deserve a chance at life and love.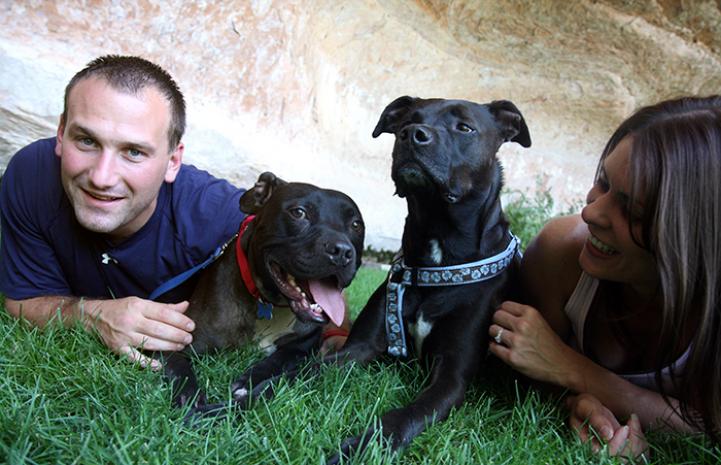 When Paul and his fiancé Melissa saw Cherry the Vicktory dog on the National Geographic show "DogTown," they fell head over heels in love. They wanted to adopt him, and they had the patience and dedication to make it happen. Today, Cherry is living happily with his family, which includes another canine friend.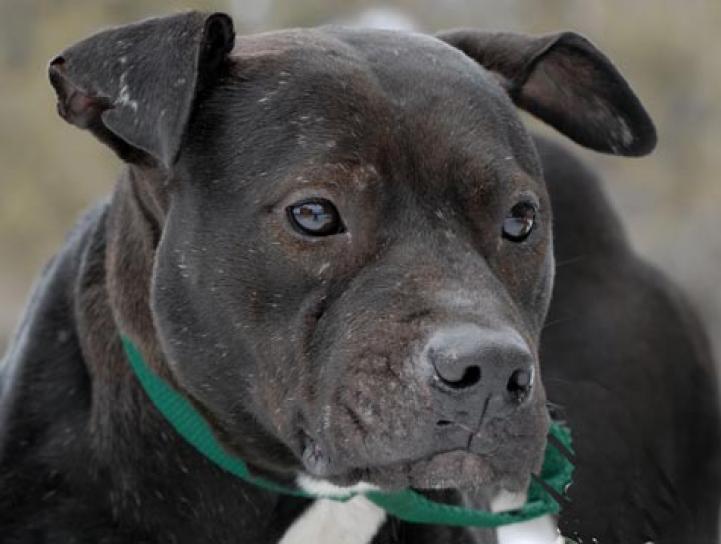 Bonita the Vicktory dog, abused as a bait dog in Michael Vick's fighting ring, passes away after a bad reaction to anesthesia. However, her strong and loving spirit and great desire to love and trust people again lives on.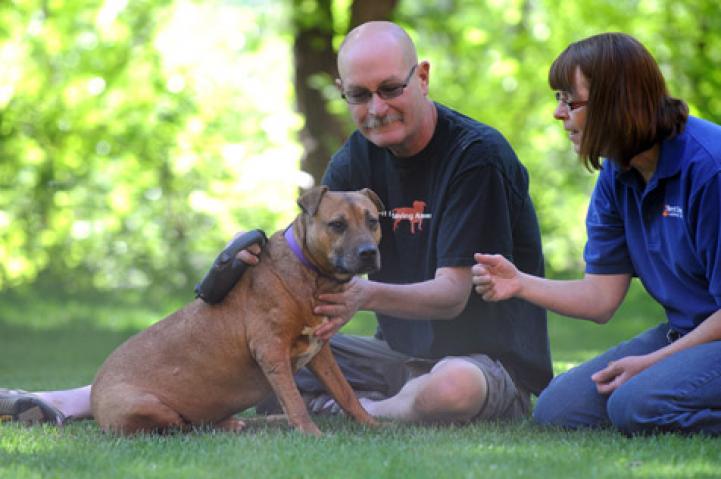 After regular training and socialization, Oscar the Vicktory dog passes his Canine Good Citizen test, a court-mandated requirement for all of the Vicktory dogs before they can be cleared for adoption into a home. Oscar is now ready for a loving forever family.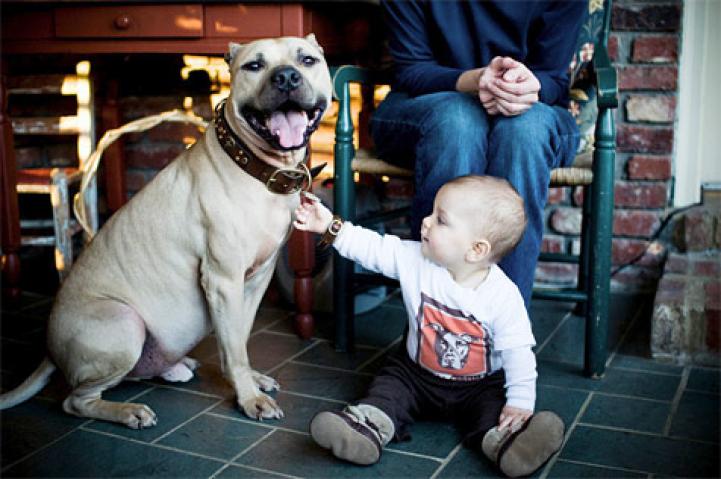 Former Michael Vick dog Handsome Dan makes spectacular progress in overcoming a lot of his timidness and fear with his new adoptive family, which includes a baby. His family helps other dogs who are struggling, and Handsome Dan serves as a role model for them. Dan also pays it forward in other ways.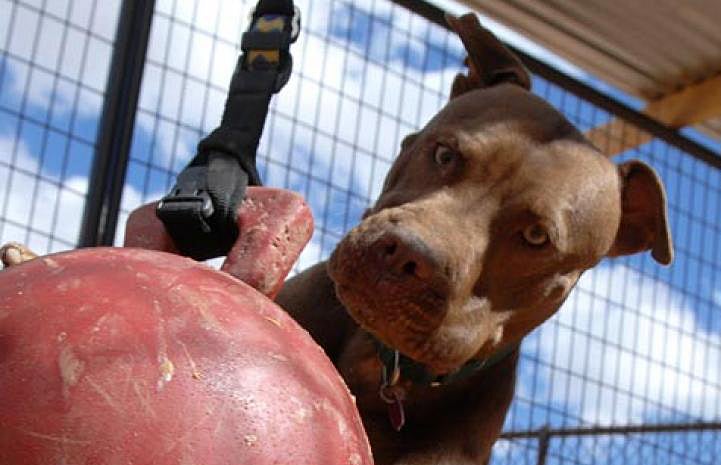 Best Friends horses make a donation of balls to the pit bull terrier dogs rescued from Michael Vick's fighting ring. Many of the Vicktory dogs enjoyed playing with the new exciting toys, but a few were suspicious of the balls and hesitant.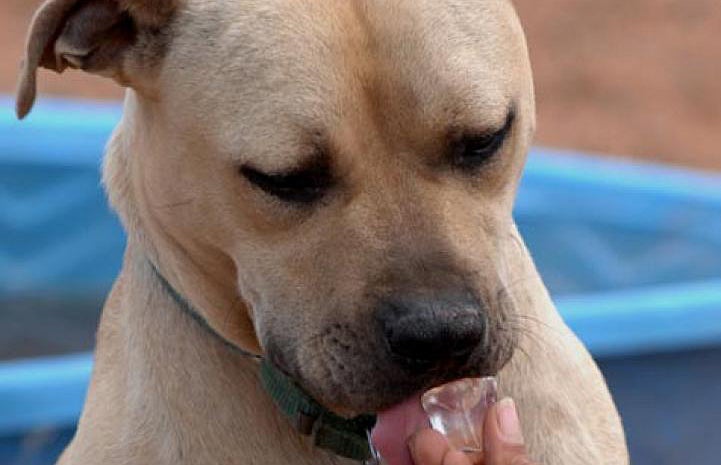 Handsome Dan is not motivated by traditional dog treats. He's one of those rare dogs who is not. However, trainers did find something that he is over-the-moon enthusiastic about: ice chips or cubes! These may prove to be a very effective dog training tool for Handsome Dan.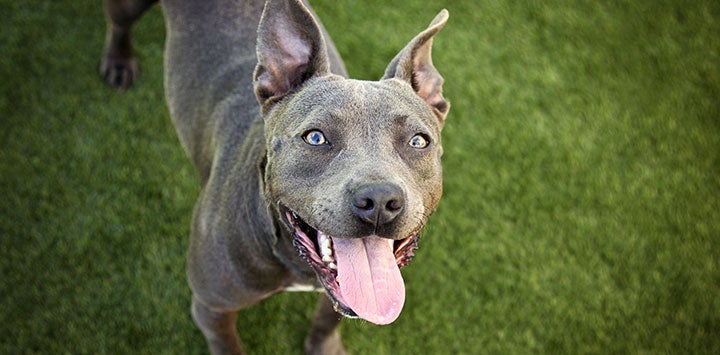 One of Best Friends' primary initiatives involves pit bull terriers and changing the often-negative public perception of these dogs. Some pit bull terriers are severely abused by being used in dog fighting, as was the case with the Vicktory dogs from Michael Vick's Bad Newz Kennels. Unjust and breed-specific legislation also contributes to the dogs' stigma.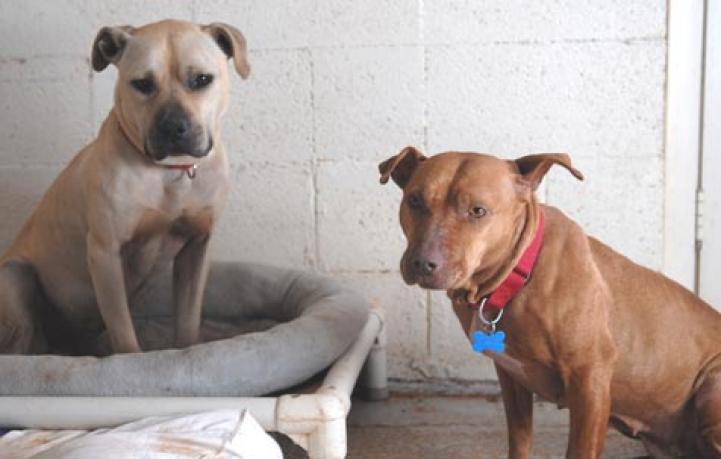 Handsome Dan and Little Red, two dogs who belonged to NFL player Michael Vick and were used in illegal dog fighting, become friends, playmates and roommates, proving some former fighting dogs can live peacefully with other dogs.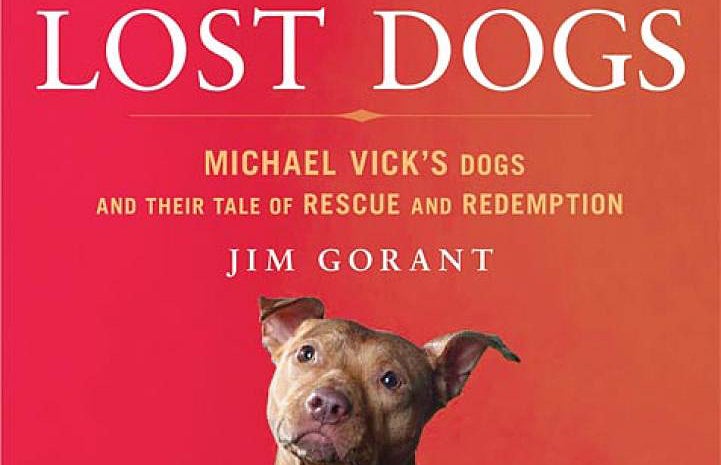 The stories of the 51 Michael Vick dogs, including the 22 who came to Best Friends Animal Sanctuary, are detailed in Jim Gorant's book, "The Lost Dogs." The book discusses dog fighting and dog abuse in depth, as well as the negative public perception of pit bull terrier dogs. The important work explores how the Vicktory dogs are changing the stigma.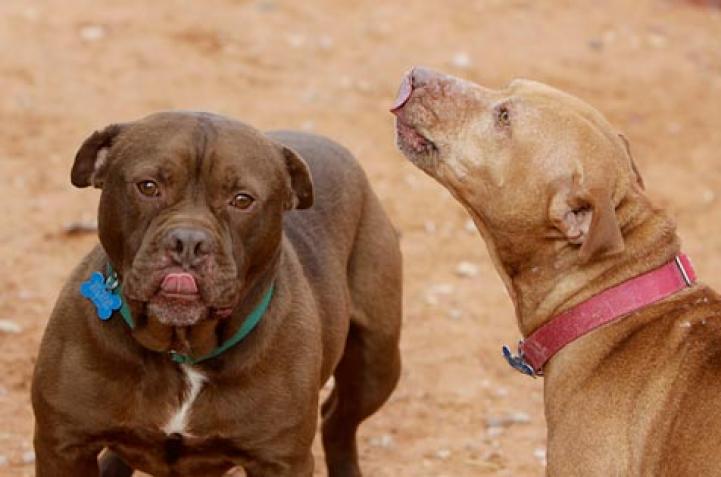 Vicktory dog Little Red got her Christmas gift early this year. She got a new best friend named Beefcake, who was also rescued from a fighting ring. Little Red has been a little down since her pal Handsome Dan got adopted, so Beefcake is helping to cheer her up and make her season merry.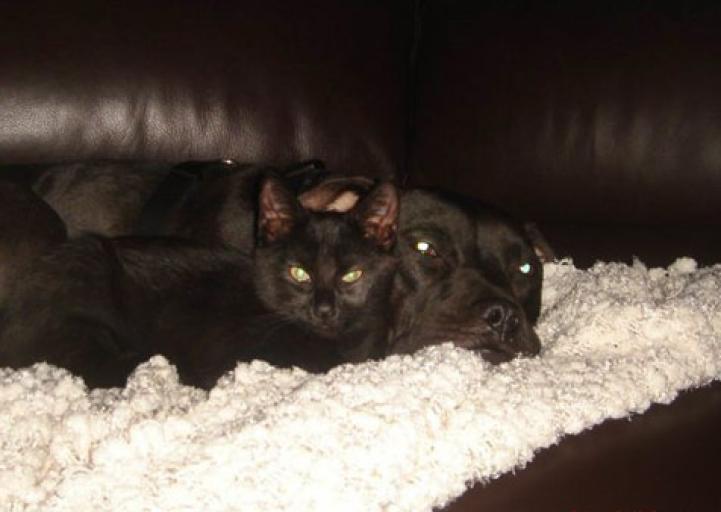 Cherry the Vicktory dog, who was shut down after being rescued from Michael Vick's dog fighting operation, is doing amazingly well in his new home with his loving family, which includes a cat named Walker, who has become his best bud. In his spare time, Cherry is advocating for other pit bull terriers and animals in need.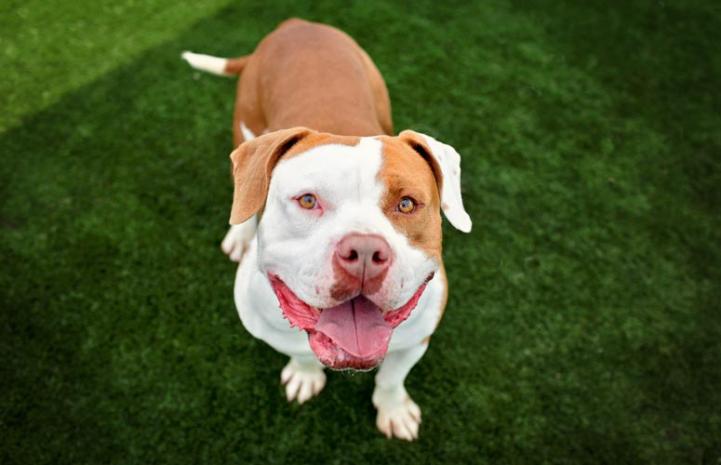 Pit bull terriers and their advocates have much to celebrate. There were legislative wins against dog breed restrictions in Utah and South Dakota. And, inspired by the Vicktory dog stories, Delaware passes a bill giving canine victims of dog fighting an opportunity for rehabilitation and adoption.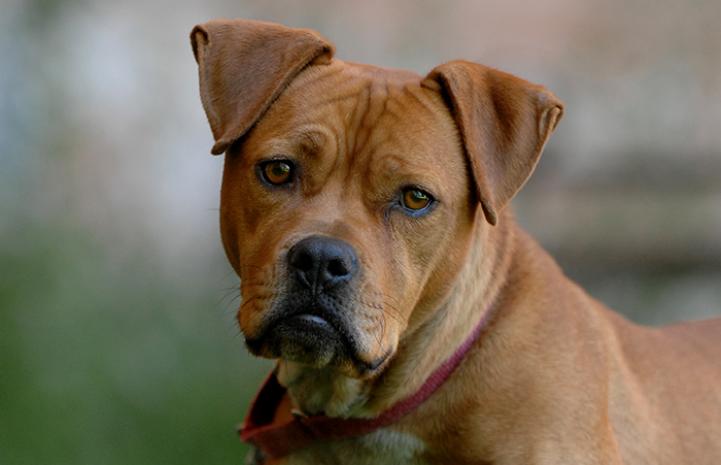 In-depth history and discussion of how Best Friends acquired 22 of the most challenging dogs from Michael Vick's dog fighting operation. The advocacy of various people and organizations saved the former fighting dogs from euthanasia, allowing them to be placed with animal rescue groups offering sanctuary, healing and rehabilitation.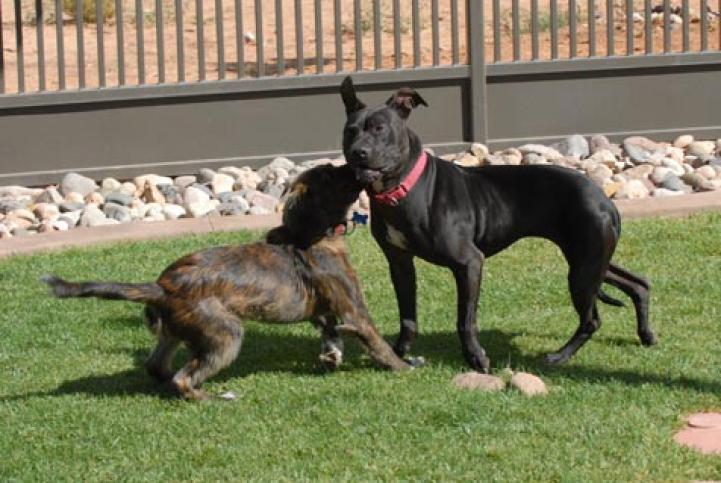 Far from her former life as a fighting dog in the Michael Vick felony dog fighting ring, Vicktory dog Mya turns out to be downright motherly. She now serves as a role model, providing key socialization and training, for puppies at Best Friends Animal Sanctuary.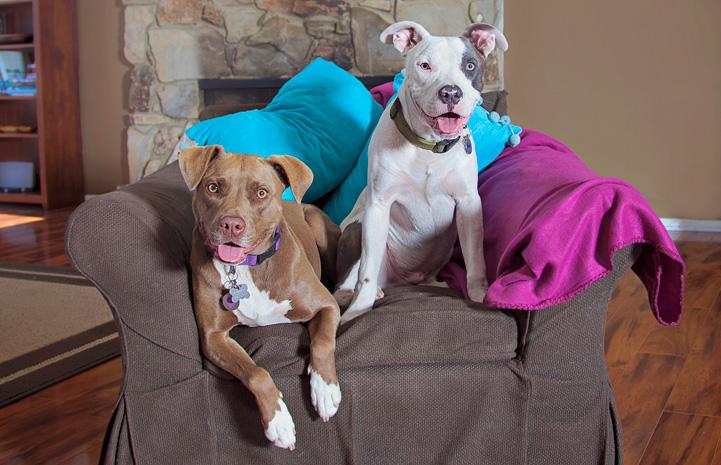 Pitbulls, American Staffordshire terriers, pit bull terriers, bully breeds: No matter what you call them, here's everything you need to know about these controversial dogs. This in-depth article covers pit bull rescue and advocacy; the pitbull dog breed and history; public perception, including myths and truths; breed-specific legislation (BSL), also known as breed-specific legislation; famous pit bulls and famous people who have kept pit bulls.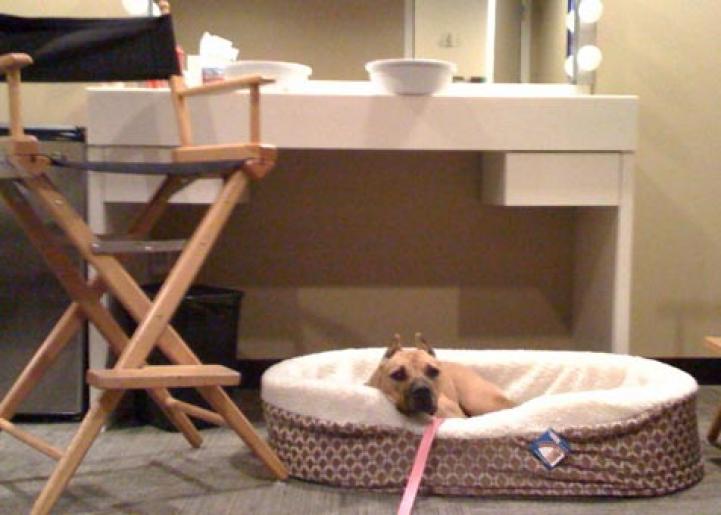 Vicktory dog Georgia shines brightly during her appearance on the "Ellen DeGeneres Show," and gets a new bed to take back home to Dogtown. The purpose of Georgia's appearance was to raise awareness about the abuse endured by fighting dogs and to show how these abused dogs can be rehabilitated.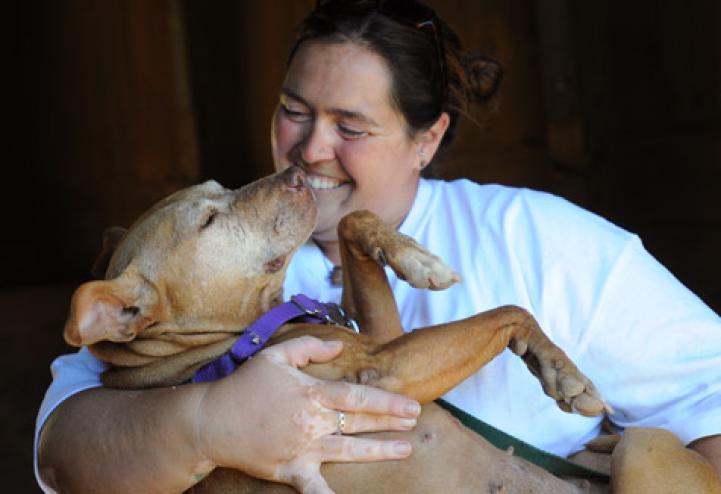 Vicktory dogs Georgia and Little Red make the grade, impressing Dogtown staff by passing their Canine Good Citizen obedience test with flying colors. Per court order, the dogs rescued from Michael Vick's Bad Newz Kennels as part of the dog fighting investigation must pass this test in order to be eligible for adoption. Little Red and Georgia can now be adopted.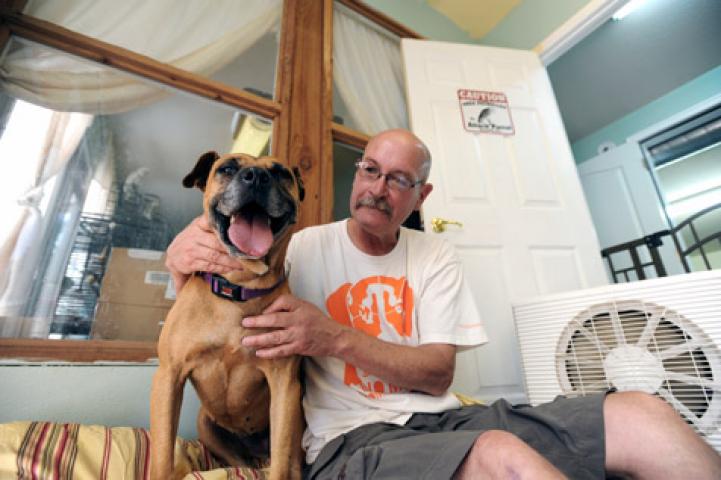 Layla the Vicktory dog gets help overcoming her fear and anxiety from an unusual place: the Parrot Garden. This area of Best Friends Animal Sanctuary provides Layla with exposure to a homelike environment. This strategy will help prepare Layla to pass her Canine Good Citizen test and become ready for adoption.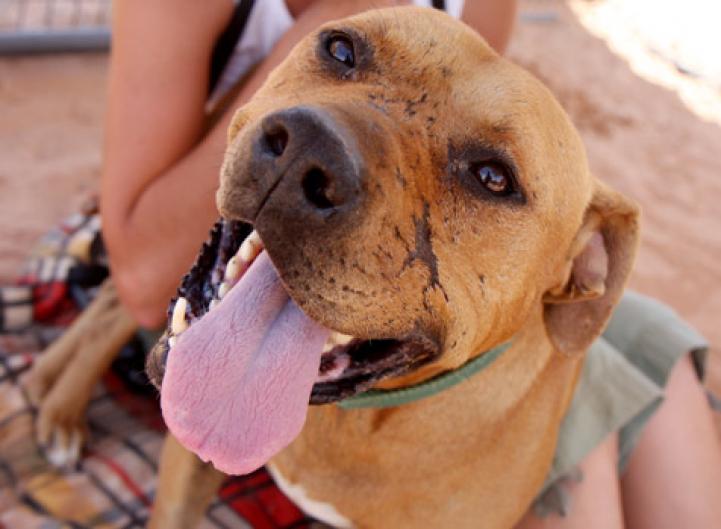 Lucas the Vicktory dog has many friends and fans who were thrilled to see him after his stint at the Best Friends clinic for exploratory surgery. He suffers from babesia, a parasite that is common in former fighting dogs, and during a recent checkup it was discovered he has several masses that needed to be biopsied. He is now on the mend, though!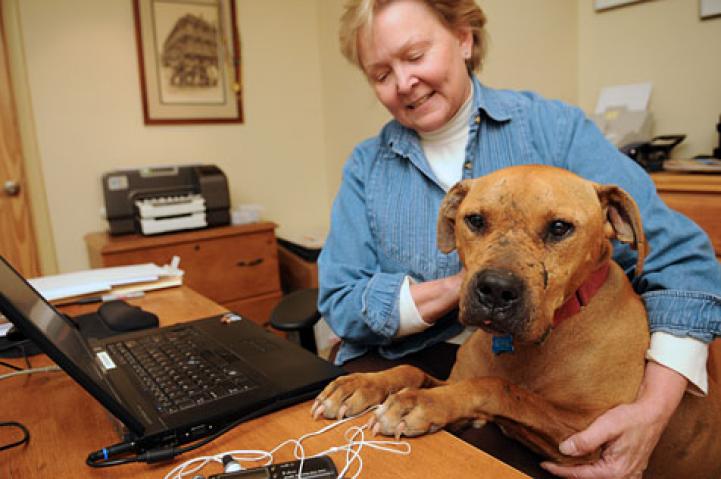 In the three years he's been at Best Friends Animal Sanctuary, Vicktory dog Lucas has become a happy-go-lucky guy. He absolutely loves people, and enjoys being around them and getting attention. He revels in all the enrichment activities caregivers and trainers provide him at the Sanctuary.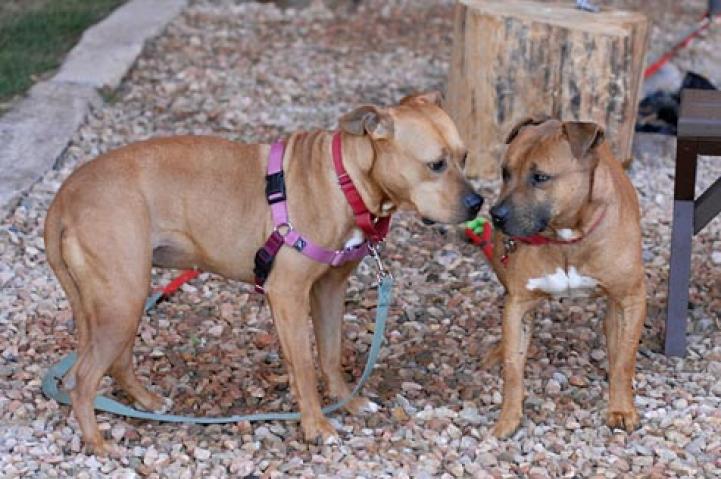 Squeaker and Oscar have had different challenges since their rescue from Michael Vick's dog fighting ring. However, these two Vicktory dogs are the best of friends, and this has helped them on their journey of healing. They have formed a very strong bond since coming to the Sanctuary, and enjoy playing and hanging out with one another. They now share the same run.